Human Behavior and Environmental Sustainability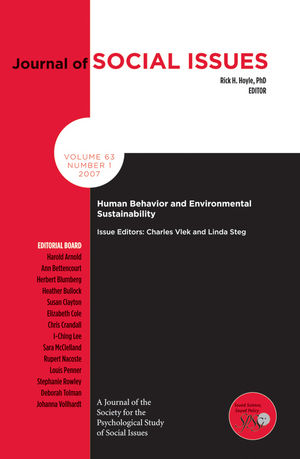 Human Behavior and Environmental Sustainability
ISBN: 978-1-405-17548-7
Mar 2007, Wiley-Blackwell
220 pages
Description
Environmental sustainability is a necessity for all countries worldwide, and it is strongly related to human quality of life. Given that sustainability problems largely result from human-environment interactions, social and behavioral research is developing as a necessary complement to natural-science and technological studies of environmental problems. To demonstrate this, the various authors address key theoretical, methodological and policy-making questions about the behavioral dimensions of environmental sustainability. Successively considered are the appreciation of environmental risk, citizens' annoyance from environmental noise, the evaluation of urban environmental quality, the restorative significance of nature experiences, fundamental behavioral processes and environmental motivations, and unsustainable-behavior change and the roles of technology therein. The usefulness of multidisciplinary research is emphasized. Finally explicated is psychology's drive and potential for analyzing and supporting environmental sustainability as a long-term human social and economic interest.
This journal issue is meant:
· to (re-)draw readers' attention to the seriousness of various environmental problems and the potential of the behavioral sciences to understand human-environment transactions;

· to demonstrate, for a variety of environmental problems, the usefulness of sound conceptual modeling and research design;

· to elucidate the importance of environmental quality for human well-being (and, consequently, sustainability), and to clarify the behavioral management of environmental problems;

· to illustrate the transactional nature of the human-environment relationship;

· to argue and demonstrate the usefulness of multidisciplinary collaboration as well as the potential of behavioral research for underpinning environmental policy making.