Human Biology: An Evolutionary and Biocultural Perspective, 2nd Edition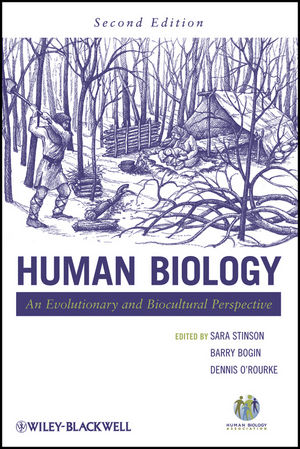 Human Biology: An Evolutionary and Biocultural Perspective, 2nd Edition
ISBN: 978-0-470-17964-2 April 2012 Wiley-Blackwell 880 Pages
Description
This comprehensive introduction to the field of human biology covers all the major areas of the field: genetic variation, variation related to climate, infectious and non-infectious diseases, aging, growth, nutrition, and demography. Written by four expert authors working in close collaboration, this second edition has been thoroughly updated to provide undergraduate and graduate students with two new chapters: one on race and culture and their ties to human biology, and the other a concluding summary chapter highlighting the integration and intersection of the topics covered in the book.
PREFACE vii
CONTRIBUTORS ix
PART I INTRODUCTION 1
1. Human Biology: An Evolutionary and Biocultural Perspective 3
Sara Stinson, Barry Bogin, Dennis O'Rourke, and Rebecca Huss-Ashmore
2. History of Human Biology in the United States of America 23
Francis E. Johnston and Michael A. Little
PART II HEREDITY AND PATTERNED HUMAN VARIATION 51
3. An Introduction to Genetics 53
Mark L. Weiss and Justin Tackney
4. Genetics, Geography, and Human Variation 99
Dennis O'Rourke and Jake Enk
5. Quantitative Variation and Genetics 143
Lyle W. Konigsberg
PART III HUMAN ADAPTABILITY 175
6. Human Adaptation to Climate: Temperature, Ultraviolet Radiation, and Altitude 177
Cynthia M. Beall, Nina G. Jablonski, and A. Theodore Steegmann, Jr.
7. Human Nutritional Evolution 251
William R. Leonard
8. Human Energetics 325
J. Josh Snodgrass
PART IV HUMAN BIOLOGY AND HEALTH 385
9. The Epidemiology of Human Disease 387
Lisa Sattenspiel and Karen Slonim
10. Stress and Human Biology 459
Gillian H. Ice and Gary D. James
PART V THE HUMAN LIFE COURSE 513
11. Evolution of the Human Life Cycle 515
Barry Bogin and B. Holly Smith
12. Growth Variation: Biological and Cultural Factors 587
Sara Stinson

13. Aging, Senescence, and Human Variation 637
Douglas E. Crews and Gillian H. Ice
PART VI POPULATION DYNAMICS 693
14. Demography Part 1: Mortality and Migration 695
Timothy B. Gage, Sharon N. DeWitte, and James W. Wood
15. Demography Part 2: Population Growth and Fertility Regulation 757
Peter T. Ellison, Barry Bogin, and Mary T. O'Rourke
GLOSSARY 805
INDEX 833