Human Biology Activities Kit: Ready-to-Use Lessons and Worksheets for General Science and Health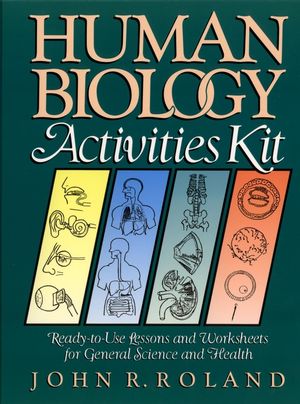 Human Biology Activities Kit: Ready-to-Use Lessons and Worksheets for General Science and Health
ISBN: 978-0-787-96662-1
Aug 1993, Jossey-Bass
352 pages
Description
This collection of over 200 classroom-tested activities and reproducible worksheets for students in grades 7 through 12 covers vital concepts in human biology and health, including extensive coverage of AIDS. These high-interest lessons and worksheets get students actively involved in learning-even students who are poorly motivated, learning disabled, or who lack English proficiency. The lessons are written so you can easily accommodate your students' various learning styles whether it's visual, auditory, and tactile. Each lesson helps students make connections between new material and concepts they're already familiar with. The book features 11 units, covering all the body's systems-such as circulatory, digestive, and immune systems, and offers a detailed look at cells, bones, muscles, and more. Each unit provides enjoyable, hands-on activities that engage secondary students-from building a cell model and testing foods for carbohydrates to dissecting a frog and making an action cartoon of a macrophage battling a microorganism. For convenience, the lessons are printed in a big, spiral-bound format that folds flat for photocopying.
About This Kit.
Unit 1 The Microscope.
Unit 2 The Cell.
Unit 3 The Skeleton.
Unit 4 Muscles.
Unit 5 The Nervous System.
Unit 6 The Circulatory System.
Unit 7 The Immune System.
Unit 8 The Respiratory System.
Unit 9 The Digestive System.
Unit 10 The Excretory System.
Unit 11 Reproduction.