Human Diversity: Perspectives on People in Context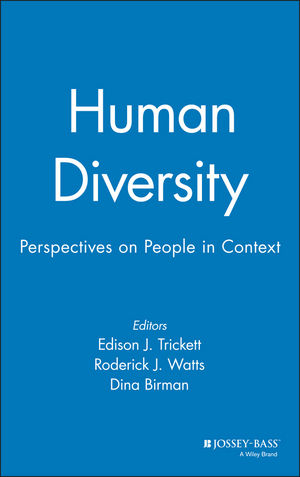 Human Diversity: Perspectives on People in Context
ISBN: 978-0-787-90029-8
Nov 1994, Jossey-Bass
512 pages
Description
An intriguing dialogue on how different groups of people in our society confront different social realities. Leading scholars explore varied approaches to diversity in the research process and offer practical guidelines on conducting diversity-conscious and diversity-sensitive projects and research.
OVERVIEW: A PSYCHOLOGY OF HUMAN DIVERSITY.

Toward an Overarching Framework for Diversity (E. Trickett, et al.).

Our Similarities Are Different: Toward a Psychology of Affirmative Diversity (J. Jones).

HUMAN DIVERSITY: PHILOSOPHICAL AND PARADIGMATIC TENETS.

Paradigms of Diversity (R. Watts).

Feminism and Psychology: A Dynamic Interaction (N. Felipe Russo & A. Dabul).

Optimal Theory and the Psychology of Human Diversity (L. James-Meyers & S. Speight).

An Ecological Perspective on Cultural and Ethnic Psychology (J. Berry).

KEY CONCEPTS IN HUMAN DIVERSITY: OPPRESSION, INTERGROUP DYNAMICS, CULTURE, AND IDENTITY.

The Discourse of Oppression in the Social Sciences: Past, Present, and Future (I. Prilleltensky & L. Gonick).

Toward an Ethnography of "Voice'' and "Silence'' (S. Reinharz).

A White Man's Perspective on the Unconscious Processes Within Black-White Relations in the United States (C. Alderfer).

Culture and Human Diversity (W. Lonner).

Culture and Disability: An Anthropological Point of View (J. Scheer).

Acculturation and Human Diversity in a Multicultural Society (D. Birman).

The Conceptualization of Racial Identity and Other "Racial'' Constructs (J. Helms).

Identity Development and Sexual Orientation: Toward a Model of Lesbian, Gay, and Bisexual Development (A. D'Augelli).

Age as a Dimension of Diversity: The Experience of Being Old (M. Gatz & B. Cotton).

APPLYING PARADIGMS AND CONCEPTS OF HUMAN DIVERSITY: CONDUCTING DIVERSITY-CONSCIOUS RESEARCH AND CREATING SETTINGS SUPPORTIVE OF DIVERSITY.

Empowerment As a Guide to Doing Research: Diversity As a Positive Value (J. Rappaport).

"It Ain't What You Do, It's the Way That You Do It, That's What Gets Results'': Another Look (F. Tyler).

Integration of Ethnic Minorities into Academic Psychology: How It Has Been and What It Could Be (M. Bernal).

Creating Social Settings for Diversity: An Ecological Thesis (J. Kelly, et al.).

Conclusion.
"Provides the blueprint for a new direction in the social sciences--from ethnocentrism to understanding people and groups in historical, political, and sociocultural contexts." (Manuel Ramirez, professor of psychology, University of Texas)

"This edited volume on human diversity is a valuable resource. . . . The book offers concise and relevant conceptual information on race, ethnicity, culture, acculturation, intergroup relations, ageism, ableism, and identity formation in oppressive contexts. . . . Helpful concepts, examples and explanations are presented that should go a long way in advancing an appreciation and affirmation of diversity."

"This book attempts to bring issues of diversity to the forefront of psychological theory and research. The time is ripe for mental health practitioners and researchers to treat diversity with the rigor it deserves. This book provides some tools to do so." (Dharma E. Cortes, Ph.D., Research Associate, Hispanic Research Center, Fordham University, The Journal of Nervous and Mental Disease)