Human Drug Metabolism: An Introduction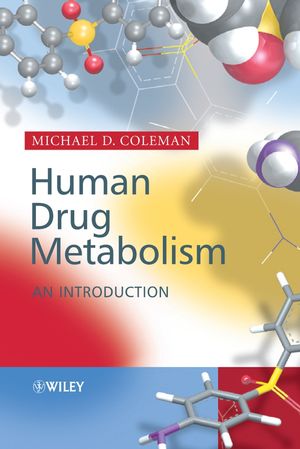 Human Drug Metabolism: An Introduction
ISBN: 978-0-470-86354-1
Feb 2006
286 pages
Description
Drug metabolism is a core area of pharmacology. Before any drug can be licensed it is essential to know how the body metabolises the drug, and the short and long-term effects it has on the body.  It is an area of rapid advancement, which brings together the fields of pharmacy, pharmacology and medicine.

This new text provides a concise, user-friendly introduction to drug metabolism that is ideal for undergraduates. Focusing on a conceptual understanding  of the drug metabolism system, the book illustrates the basic mechanisms on how xenobiotics are detected, chemically modified and then eliminated from human systems.
Preface.
CHAPTER 1: INTRODUCTION.
1.1 Therapeutic Window.
1.2 Consequences of Drug Concentration Changes.
1.3 Clearance.
1.4 Hepatic Extraction and Intrinsic Clearance.
1.5 First Pass and Plasma Drug Levels.
1.6 Drug and Xenobiotic Metabolism.
CHAPTER 2: DRUG BIOTRANSFORMATIONAL SYSTEMS - ORIGINS AND AIMS.
2.1 Biotransforming enzymes.
2.2 Threat of Aromatic Hydrocarbons.
2.3 Cell Communication.
2.4 Potential Food Toxins.
2.5 Sites of Biotransforming Enzymes.
2.6 Biotransformation.
CHAPTER 3: HOW PHASE I SYSTEMS METABOLISE SUBSTRATES.
3.1 Introduction.
3.2 Capture of Lipophilic Molecules.
3.3 Cytochrome P450s Basic Structure.
3.4 CYPs-Main and Associated Structures.
3.5 CYP Substrate Specificity and Regulation.
3.6 Main Human CYP Families.
3.7 Cytochrome P450 Catalytic Cycle.
3.8 Real-life Operations.
3.9 CYP Isoforms: how aims are translated into function.
3.10 Aromatic Ring Hydroxylation.
3.11 Alkyl Oxidations.
3.12 Rearrangement and Reactions.
3.13 Other Oxidation Processes.
3.14 Reduction Reactions.
3.15 Control of CYP Metabolic Function.
CHAPTER 4: INDUCTION OF PHASE I SYSTEMS.
4.1 Introduction.
4.2 Causes of Accelerated Clearance.
4.3 Enzyme Induction.
4.4 Mechanisms of Enzyme induction.
4.5. Induction-General Clinical Aspects.
CHAPTER 5: PHASE I ENZYME INHIBITION.
5.1 Introduction.
5.2 Inhibition of Metabolism-general aspects.
5.3 Mechanisms of Inhibition.
5.4 Cell transport systems and CYP 3A inhibitors.
5.5.Clinical Consequences of Drug Inhibition.
5.6. Use of Inhibitors for Positive Clinical Intervention.
CHAPTER 6: PHASE II and III PROCESSES.
6.1 Introduction.
6.2 Glucuronidation.
6.3 Sulphation.
6.4 The GSH System.
6.5 Glutathione S-Transferases.
6.6 Epoxide hydrolases.
6.7 Acetylation.
6.8 Methylation.
6.9 Esterases/amidases.
6.10 Amino Acid Conjugation (Glycine or Glutamate).
6.11 Phase III Processes.
CHAPTER 7: FACTORS AFFECTING DRUG METABOLISM.
7.1 Introduction.
7.2 Genetic Polymorphisms.
7.3 Effects of Age on Drug Metabolism.
7.4 Effects of Diet on Drug Metabolism.
7.5 Gender Effects.
7.8 Effects of Disease on Drug Metabolism.
7.9 Summary.
CHAPTER 8 ROLE OF METABOLISM IN DRUG TOXICITY.
8.1 Adverse Drug Reactions.
8.2 Reversible Drug Adverse Effects Type A.
8.3. Irreversible Toxicity (Type B).
8.4 Type B1 Necrotic Reactions.
8.5. Type B2 Reactions: Immunotoxicity.
8.6 Type B3 Reactions: Role of Metabolism in Cancer.
8.7 Summary Of Biotransformational Toxicity.
APPENDIX A - METHODS IN DRUG METABOLISM.
A.1 Intrdoction.
A.2 Human liver microsomes.
A.3 Human hepatocytes.
A.4 Heterologous systems.
A.5 Toxicological metabolism-based assays.
A.6 In silico studies.
APPENDIX B - METABOLISM OF MAJOR ILICIT DRUGS.
B.1 Introduction.
B.2 Opiates.
B.3 Cocaine.
B.4 Hallucinogens.
B.5 Amphetamines:ecstasy (MDMA).
B.6 Cannabis.
B.7 PCP.
APPENDIX C - EXAMINATION TECHNIQUES.
C.1 Introduction.
C.2 A first-class answer.
C.3 Preparation.
C.4 The day of reckoning.
APPENDIX D - SUMMARY OF MAJOR CYP ISOFORMS AND THEIR SUBSTRATES, INHIBITORS AND INDUCERS.
SUGGESTED FURTHER READING.
Index.
""…a useful introductory text for the intended audience of students studying pharmacology and toxicology…"" (
Veterinary Pathology
, November 2006)
""The author has certainly achieved his goal of providing an accessible introduction to human drug metabolism."" (The Annals of Pharmacotherapy, June 2006)
"" … for many who are just beginning to learn about drug metabolism because it deals with all of the relevant aspects."" (Journal of Medicinal Chemistry, Vol. 49, No. 8, May 2006)
""Armed with the knowledge contained in this book, we should all be well on the way"" (Pharmaceutical Physician,  May 2006)
""…useful for many who are just beginning to learn about drug metabolism…a good addition to many personal and school libraries."" (Journal of Medicinal Chemistry, April 20, 2006)
""...thumbs up for ambition."" (Chemistry World, 1st March 2006) 
""Overall this is an interesting book that provides a rather comprehensive overview of drug metabolism in humans"" (Journal of Medicinal Chemistry,  2006 Volume 49. No 8)
A concise, accessible and engaging introduction to drug metabolism

Avoids unnecessary technical and chemical detail

Focuses on a conceptual understanding of the drug metabolism system

Provides a wealth of examples to engage student interest and explore the clinical consequence of drug metabolism in simple terms