Human Evolution: An Illustrated Introduction, 5th Edition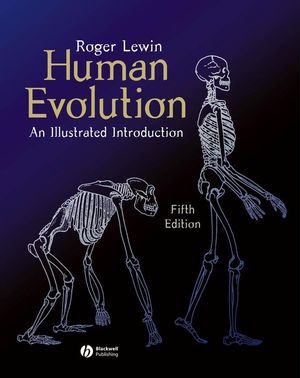 Human Evolution: An Illustrated Introduction, 5th Edition
ISBN: 978-1-405-10378-7
Sep 2004, Wiley-Blackwell
284 pages
Description
The brief length and focused coverage of Human Evolution: An Illustrated Introduction have made this best-selling textbook the ideal complement to any biology or anthropology course in which human evolution is taught. The text places human evolution in the context of humans as animals, while also showing the physical context of human evolution, including climate change and the impact of extinctions. Chapter introductions, numerous drawings and photographs, and an essential glossary all add to the accessibility of this text.The fifth edition has been thoroughly updated to include coverage of the latest discoveries and perspectives, including:





· New early hominid fossils from Africa and Georgia, and their implications
· New archaeological evidence from Africa on the origin of modern humans
· Updated coverage of prehistoric art, including new sites
· New perspectives on molecular evidence and their implications for human population history.

 

An Instructor manual CD-ROM for this title is available. Please contact our Higher Education team at HigherEducation@wiley.com for more information.
Preface.
Part I: Human Evolution in Perspective:.
1. Our Place in Nature.
2. Human Evolution as Narrative.
3. Historical Views.
4. Modern Evolutionary Theory.
5. The Physical Context of Evolution.
6. Extinction and Patterns of Evolution.
Part II: Background to Human Evolution:.
7. Dating Methods.
8. Systematics: Morphological and Molecular.
9. Science of Burial.
10. Primate Heritage.
Part III: Humans as Animals:.
11. Bodies, Size, and Shape.
12. Bodies, Brains, and Energy.
13. Bodies, Behavior, and Social Structure.
14. Nonhuman Models of Early Hominins.
Part IV: Hominin Beginnings:.
15. Ape and Human Relations.
16. Origin of the Hominoidea.
17. Origin of Bipedalism.
18. Jaws and Teeth.
19. The Earliest Known Hominins.
Part V: The Hominin Adaptation:.
20. The Australopithecines.
21. Early Homo.
22. Hominin Relations.
23. Early Tool Technologies.
Part VI: Homo erectus: Biology and Behavior:.
24. The Changing Position of Homo erectus.
25. New TechnologiesUnit 26: Hunter or Scavenger.
Part VII: Origin of Modern Humans:.
27. The Neanderthals.
28. Anatomical Evidence.
29. Genetic Evidence.
30. Archeological Evidence.
Part VIII: The Human Milieu:.
31. Evolution of Brain, Intelligence, and Consciousness.
32. The Evolution of Language.
33. Art in Prehistory.
Part IX: New Worlds:.
34. The Americas and Australia.
35. Origin of Agriculture and The First Villagers.
Glossary.
Index
"This book should neither be on your coffee table nor in your waste-paper box. It should not even be on one of your book-shelves. It should be on your desk, within reach, and always immediately at hand whenever wanted. A good buy!"
PalArch, January 2006
"This is an excellent book for reference and, for the intelligent student who wants to go into real depth, this is an effective, user-friendly and up-to-date resource." Institute of Biology, July 2006


Highlights new fossil finds and their interpretation, particularly the finds of early hominins.


Offers a clear explanation of modern evolutionary theory.


Places human evolution in the context of humans as animals.


Discusses the anatomical, archeological, and genetic evidence of modern human origins.


Shows the physical context of human evolution, including climate change and the impact of extinctions.