Human Factors: Understanding People-System Relationships, Workbook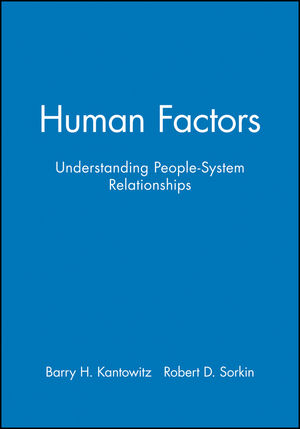 Human Factors: Understanding People-System Relationships, Workbook
ISBN: 978-0-471-87061-6 April 1983 112 Pages
Description
A general, introductory, up-to-date text on the interface between people and systems, geared for the advanced undergraduate or graduate major in psychology, industrial engineering, computer science, and business. Integrates theory and practical implications of human behavior in terms of theoretical models. Covers non-traditional contemporary topics and uses a detailed description of human capabilities as a necessary precursor to the study of human-machine systems. Emphasizes the cognitive aspects of the person-system relationship.
Systems and People.
Error and Reliability.
HUMAN CAPABILITIES.
Hearing and Signal Detection Theory.
Vision.
Psychomotor Skill.
Human Information Processing.
HUMAN-MACHINE INTERFACES.
Visual Displays.
Auditory and Tactile Displays.
Speech Communication.
Controls and Tools.
Data Entry.
HUMAN-MACHINE SYSTEM PROPERTIES.
Feedback and Control.
Human Factors in Computer Programming.
Decision Making with Applications to Inspection and Maintainability.
Workspace Design.
ENVIRONMENT.
Noise.
Microenvironments.
Macroenvironments.
Environmentsl Stressors.
Legal Aspects of Human Factors.
References.
Author and Subject Indexes.