Human Geography: People, Place, and Culture, 10th Edition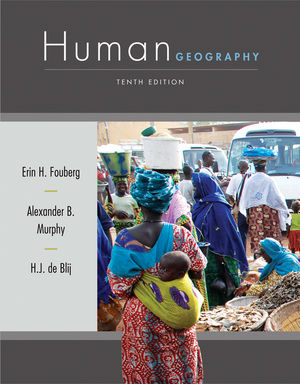 Human Geography: People, Place, and Culture, 10th Edition
Product not available for purchase
Description
Human Geography 10th Edition includes all of the important concepts and theory on Human Geography as previous issues with a more succinct and engaging narrative while going in depth to touch on all the major themes of the topic. The text focuses on identity and how every human being forges an identity in a globalized world. It includes recurring coverage of "identity" and how people make places and shape identities to see global, local and individual implications of decisions that people make every day. The main objective of this issue is to provide more understanding of human systems from a spatial perspective; ways to think globally; and ways to understand real-world implications of Human Geography. The text will help encourage a better understanding of how to create an identity in a globalized world and how decisions happen in a global context and can have global impacts.
1 Introduction to Human Geography 1
2 Population 36
3 Migration 78
4 Local Culture, Popular Culture, and Cultural Landscapes 112
5 Identity: Race, Ethnicity, Gender and Sexuality 144
6 Language 172
7 Religion 203
8 Political Geography 249
9 Urban Geography 288
10 Development 335
11 Agriculture 365
12 Industry and Services 403
13 The Humanized Environment 434
14 Globalization and the Geography of Networks 464
Appendix A: Maps A-1
Appendix B: Area and Demographic Data for the World's States A-10
Appendix C: Glossary A-18
Appendix D: References A-31
Index I-1
Increased focus on identity and how every human being forges an identity in a global world
All maps in the book have been revised to reflect 2010 Census data (data in the previous edition was from the 2000 census) 
Entire book was updated with new chapter opening vignettes, field notes and photos.
There have been significant updates and revisions to chapters 11, 12, 13 which were all reviewed by subject area experts
"From the Field" examine a specific place, its location, what the issues are, geographers' field research and what the authors found in their own observations. 
"Applying geographic knowledge" sections at the end of each chapter, address the key concepts used within the chapter and force students to apply geographic concepts. 
All geographic concepts are shown and explained with the most up-to-date photos, illustrations and maps.
MAP strengths known to all de Blij titles (Maps, Accuracy, and Photos).
"Key questions" are listed after the opening field note of each chapter and serve as the outline for the chapter.
"Thinking Geographically" questions ask the reader to apply a geographic concept to a real life example.