Human Geography: People, Place, and Culture, 11th Edition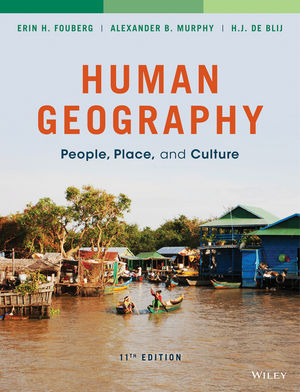 Human Geography: People, Place, and Culture, 11th Edition
ISBN: 978-1-118-79314-5 January 2015 472 Pages
Description
Fouberg's Human Geography, 11th Edition teaches students to appreciate the diversity of people, places, and cultures, and understand the role people play in shaping our world. The goals of this edition are to provide geographic context to global, regional, national and local issues and to teach students to think geographically and critically about these issues. Human Geography: People, Place, and Culture features beautifully designed maps, dozens of vibrant photographs taken by the author team, and author and guest field notes that help students see how geographers read cultural landscapes and use fieldwork to understand places. A newly designed demographic data table includes economic, political, and population data, all of which can be examined in ArcGIS Online.
1 Introduction to Human Geography
2 Population
3 Migration
4 Local Culture, Popular Culture, and
Cultural Landscapes
5 Identity: Race, Ethnicity, Gender and Sexuality
6 Language
7 Religion
8 Political Geography
9 Urban Geography
10 Development
11 Agriculture
12 Industry and Services
13 The Humanized Environment
14 Globalization and the Geography of Networks
WileyPLUS Learning Space is an easy way for students to learn, collaborate, and grow. With WileyPLUS Learning Space, students create a personalized study plan, assess progress along the way, and make deeper connections as they interact with the course material and each other. WileyPlus Learning Space can be purchased in place of a printed book or bundled at a low price with a printed, binder-ready, or custom copy of the book (ask your Wiley representative for options and ISBNs).
Improved Student Workflow, Learning and Collaboration is made possible in WileyPLUS Learning Space through dynamic e-text, figures, assignments and social networking tools that enable interaction with instructors and encourage collaboration and discussion between students.
New layout in the printed book helps improve the visual, draw students into studying maps and photographs, allows for longer and more detailed captions, and facilitates the integration of text, photos, and illustrations.
ArcGIS Online map of demographic data included in the demographic data table. Faculty and students can open maps of each demographic data variable live in ArcGIS Online. Change symbols, basemaps, coverages, and add layers and analyze correlations or change using transparency. Explore human geography maps in the easily learned, dynamic ArcGIS Online environment.
Author and Guest Field Notes demonstrate how geographers use fieldwork and read cultural landscapes to think geographically about places.
Key questions are listed after the opening field note of each chapter and serve as a prompt to encourage critical thinking.
Thinking Geographically questions ask the student to apply a geographic concept to a real-life example and make great prompts for essays or as lecture launchers.
Detailed captions for maps and photographs help students learn to see and analyze patterns on maps and recognize geographic concepts in photographs. The 11th edition features more detailed captions for all maps and photographs than previous editions.