Human Geography Today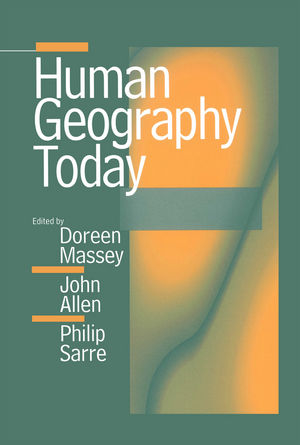 Human Geography Today
ISBN: 978-0-745-62189-0 January 1991 Polity 352 Pages
Description
This book offers a unique assessment of the current state and future directions of human geography, exploring the developments and themes that have put the discipline at the heart of a number of important debates.
Human Geography - with its concern for space, place and nature - has over recent years moved to the center of much theoretical debate in the social sciences and humanities. Moreover, the exchange has been two-way - human geography has itself increasingly welcomed the importation of work from other areas of academe. This book takes up the promise and challenge of this new-found prominence and openness and explores the future for the discipline.

Human Geography Today brings together a range of internationally recognized authors, all of whom have explored this new interface, and each of whom here proposes future directions for their part of the discipline. The book considers the increasingly challenged dichotomy between the social and the natural, the meaning and significance of the geographical imagination, the increasing prominence of debates over difference and identity and their relationship to spatiality, the imperative of recognizing the thoroughly mutual constitution of spatiality and power, and - after all - how we might in these changing times most productively re-imagine space and place themselves.
This book will be invaluable for students and academics in human geography, social theory, cultural studies, and politics.
Table of contents
Notes on Contributors.
Preface.
Part I The 'Nature' of Human Geography: .
1. Issues and Debates: Doreen Massey.
Hybrid Geographies: rethinking the 'human' in human geography: Sarah Whatmore.
Part II: Imaginative Geographies.
Introduction.
3. Imagined Geographies: geographical knowledge of the self and other in everyday life: Gill Valentine.
4. Situating Geopolitical Representations: inside/outside and the power of imperial interventions: David Slater.
5. Collective Wish Images: geographical imaginaries and the crisis of national development: Michael John Watts.
Part III: Geography and Difference.
Introduction.
6. Creating Geographies of Difference: David Sibley.
7. The Cultural Politics of Difference: Susan J. Smith.
8. Geographies of Identity and Difference: marking boundaries: Geraldine Pratt.
Part IV: Spatialities of Power.
Introduction.
9. The New Geopolitics of Power: John Agnew.
10. Spatial Assemblages of Power: from domination to empowerment: John Allen.
11. Popular and State Discourses of Power: Sarah Radcliffe.
Part V: Re-thinking Space and Place. .
Introduction.
12. Performing Space: Gillian Rose.
13. Thirdspace: Expanding the Scope of the Geographical Imagination: Edward W. Soja.
14. Spaces of Politics: Doreen Massey.
15. Steps to an Ecology of Place: Nigel Thrift.
Afterword: Open Geographies: John Allen.
Index.
What's New
* A unique assessment of the current state and future direction of human geography.
* A major book that includes especially written contributions by internationally respected figures in the field.
* Accessible and wide-ranging, it will be widely read by students and academics.