Human Geography in Action, 6th Edition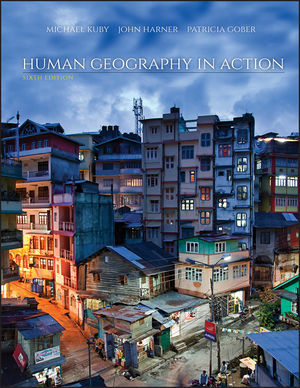 Human Geography in Action, 6th Edition
ISBN: 978-1-118-42257-1
Jan 2013
512 pages
Description
Michael Kuby's 6th edition of Human Geography in Action is comprised of 14 stimulating, concept-based chapters. The text aims to develop geographic problem-solving skills that prove valuable to readers. Each chapter begins with an introduction to a concept, followed by a case study tying the concept into the real world and wraps up with an activity. These engaging activities featured throughout the text further its "Do Geography" approach. Human Geography in Action provides the opportunity to: use GIS to investigate ethnic distributions and culture regions, track the AIDS epidemic over space and time, model interstate migration flows, simulate India's demographic future, add new baseball franchises, animate past urban growth and assess future growth areas.
Chapter 1: True Maps, False Impressions: Making, Manipulating, and Interpreting Maps.
Chapter 2: Layers of Tradition: Culture Regions at Different Scales.
Chapter 3: Tracking the AIDS Epidemic in the United States: Diffusion through Space and Time.
Chapter 4: Newton's First Law of Migration: The Gravity Model.
Chapter 5: One Billion and Counting: The Hidden Momentum of Population Growth in India.
Chapter 6: Help Wanted: The Changing Geography of Jobs.
Chapter 7: Rags and Riches: The Dimensions of Development.
Chapter 8: Food for Thought: The Globalization of Agriculture.
Chapter 9: Take Me Out to the Ball Game: Market Areas and the Urban Hierarchy.
Chapter 10: Reading the Urban Landscape: Census Data and Field Observation.
Chapter 11: The Disappearing Front Range: Urban Sprawl in Colorado.
Chapter 12: Do Orange and Green Clash? Residential Segregation in Northern Ireland.
Chapter 13: Breaking Up Is Hard to Do: Nations, States, and Nation-States.
Chapter 14: Preserving the Planet: Human Impact on Environmental Systems.
Updated Census information including 2010 census data
Updated interaction exercises
New diagrams
New key terms
Expanded case studies
14 stimulating chapters challenge students to collect, manipulate, display and interpret geographic information and data.
Focuses on essential concepts; identifying the 5 to 10 most important ideas in each chapter while still including useful but brief background material.
Designed with flexibility in mind, each chapter is freestanding while built around a cohesive instructional program.