Human Resource Management, 3rd Edition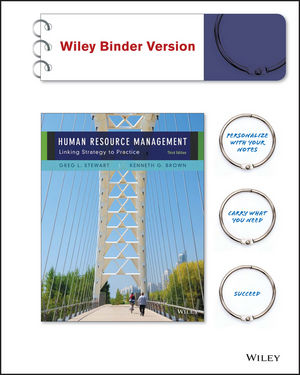 Human Resource Management, 3rd Edition
ISBN: 978-1-118-80125-3
Feb 2014
648 pages
Description
Human Resource Management: Linking Strategy to Practice3e is designed to help students understand traditional human resource concepts within a decision-making framework.
This strategic framework helps students not only develop a set of human resource tools, but also determine which tools are appropriate to use for different situations. Written in a clear and friendly style, the text emphasizes how organizations excel when they have consistent human resource practices that align with their strategic direction.  Ideal for business students, Human Resource Management prepares students to think about how human resource decisions and strategic organization planning work together for maximum success.
HR Simulation: Provided through Ethics LX, the Cloud Development HR Management Simulation challenges students to decide how to design Cloud's HRM strategy to preserve the current positive aspects of its culture, while positioning the company to become a global brand in the next several years, all under the constraints of limited time and resources.
New research: Findings that Support the benefits of aligning human resource practices with organizational strategy is included.
Updated case examples: Reflect innovative ideas being carried out in contemporary organizations.
Diverse workforce and competitive advantage: Chapter 3 has been significantly revised to reflect several major court decisions that affect equal employment opportunities and safety.
Updated HR Appendices: Expand on key HR resources such asOccupational Outlook for HR Managers and Specialists, Human Resource Certification Institute Bodies of Knowledge, Human Resource Planning Society Knowledge Areas, Major Employment Laws in the United States, Organizations of Interest to HR Students and Professionals, Journals Useful to HR Students and Professionals.
Linking strategy to practice framework: Provides students with an understanding of traditional human resource concepts, and a framework for making decisions about when specific practices can be most beneficial to an organization.
HR Applied: Example Cases, Discussion Cases, Experiential Exercises, and Interactive Experiential Exercises offer a variety of ways for students to apply the concepts learned throughout each chapter. 
Real life scenarios engage students: Each chapter opens with a real-life scenario called A Manager's Perspective describing a decision faced by an employee, manager, or human resource professional. These scenarios highlight the importance of strategic decision making and are revisited at the end of each chapter to reinforce key concepts. 
Research made easy: Throughout the text the authors highlight recently published research from scholarly journal in non-technical language in the How Do We Know section. Each of the sections concludes with a "Bottom Line" summary that shows how the findings of the study contribute to our understanding of effective human resource management.
Building Strength through HR: Each chapter includes a discussion that illustrates how a specific company has used the concepts discussed in the chapter to increase effectiveness. Trader Joe's, Southwest Airlines, Marriott, and General Electric are just a few of the firms included in these examinations of strategic HR.