Human Resource Management, 8th Edition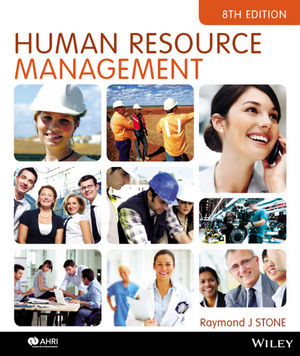 Human Resource Management, 8th Edition
ISBN: 978-0-730-30251-3
Oct 2013
904 pages
Product not available for purchase
Description
Endorsed by the Australian Human Resources Institute (AHRI) — the national association representing human resource and people management professionals — Human Resource Management, 8th edition, presents a comprehensive coverage of key HRM topics. Ray Stone's Human Resource Management is the longest running and most successful Australian textbook ever produced in the field of HRM.
The 8th edition has been thoroughly updated to reflect the impact of the Fair Work Act on the relationship between employers and employees, as well as on the work of HR professionals. Numerous practical examples throughout the text highlight contemporary HR issues, such as:
• employee engagement
• flexible working arrangements
• work–life balance
• generational issues in the workplace
• skills shortages in various industries
• the importance of effective employee recruitment and training
• the cost of involuntary staff turnover
• increasing diversity in the workplace
• outsourcing
• corporate social and ethical responsibility
• globalisation
• negotiation
• change management
In addition to a thorough analysis of the contemporary HR landscape in Australia, the text provides useful comparisons with HR practices in regional countries such as India, China and Japan.
About the author xiii
About the contributors xiii
Preface xiv
AHRI student membership xiv
How to use this book xvi
Acknowledgements xix
PART 1 Introducing HRM 1
1 Strategic human resource management 3
2 Human resource planning 61
3 Human resource information management systems 95
4 Human resource management and the law 121
PART 1 CASE STUDY 158
PART 2 Determining, attracting and selecting human resources 161
5 Job analysis, job design and quality of work life 163
6 Recruiting human resources 207
7 Employee selection 251
PART 2 CASE STUDY 300
PART 3 Developing human resources 303
8 Appraising and managing performance 305
9 Human resource development 355
10 Career planning and development 397
PART 3 CASE STUDY 433
PART 4 Rewarding human resources 435
11 Employee motivation 437
12 Employee remuneration 465
13 Employee benefits 507
PART 4 CASE STUDY 537
PART 5 Managing human resources 539
14 Industrial relations 541
15 Managing change 595
16 Negotiation 629
17 Employee health and safety 661
18 Managing diversity 707
PART 5 CASE STUDY 748
PART 6 Human resources in a changing world 751
19 International human resource management 753
20 Managing international assignments 789
PART 6 CASE STUDY 816
PART 7 Evaluating human resource management 819
21 Assessing HRM effectiveness 821
PART 7 CASE STUDY 848
Glossary 850
Name index 864
Subject index 867
Coverage of the operations of Fair Work Australia and how the Fair Work Act has been implemented since it was introduced by the Labor government in 2009.
Expanded coverage of organisational change, the sources of employee stress and the impact of technology in the workplace.
New and updated research, statistics and practical case study examples to illustrate key concepts.
All new boxed features – 'Practitioner Speaks', 'Letters to the Editor' and 'Newsbreaks'
Interactive Study Guide – a multimedia resource containing interactive modules, skills assessments and local video.
Practitioner Speaks – human resource managers from a variety of industries provide real-world perspectives on chapter topics.
Letters to the Editor - provide a thought provoking (and sometimes controversial) viewpoint on chapter issues, for further analysis.
Newsbreaks– media articles on HR topics drawn from Australia and the Asia-Pacific region help demonstrate chapter theory.
Fast Facts – interesting facts and statistics on relevant topics are highlighted regularly in the margin of each chapter.
Doctor HR – presented in an 'ask the expert' style, these thought-provoking questions bring workplace HR issues to life
End-of-Chapter Student Study Guide – at the end of each chapter, a wealth of material for self-study or classroom activities is provided, including review questions, class debate topics, online exercises, case studies and ethical dilemmas.
End-of-Part Case Studies – a variety of case studies are provided to illustrate HRM theory. Each case study includes questions for analysis.