Human Resources Business Process Outsourcing: Transforming How HR Gets Its Work Done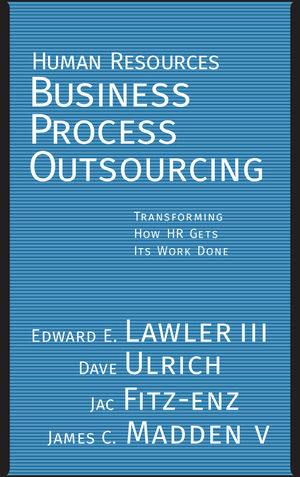 Human Resources Business Process Outsourcing: Transforming How HR Gets Its Work Done
ISBN: 978-0-787-97610-1
Jul 2004, Jossey-Bass
300 pages
Description
In Human Resources Business Process Outsourcing, Edward E. Lawler III, Dave Ulrich, Jac Fitz-enz (the foremost experts in the human resource field) and James C. Madden V (the CEO of the top HR outsourcing firm), clearly show how outsourcing offers an effective, low-cost alternative to traditional administration and provides HR managers with new opportunities to contribute directly to their companies' overall strategy and business performance. Step by step, the authors explore how the HR function in corporations is structured and include a template for analyzing a HR department's value, value added, and cost-to-serve. In this important resource, the authors explain new approaches organizations can take to improve HR administration and demonstrate how HR functions can be best organized.
Preface.
The Authors.
1. Forces for Change.
2. New Roles for HR.
3. Evaluating the Effectiveness of HR.
4. Design of the HR Function.
5. Exult.
6. BP.
7. Bank of America.
8. International Paper.
9. Prudential.
10. Lessons Learned.
11. Outsourcing and the Future of HR.
Index.
"…a well structured look at a business dilemma…" (Supply Management, 17th February 2005)