Human and Ecological Risk Assessment: Theory and Practice (Wiley Classics Library)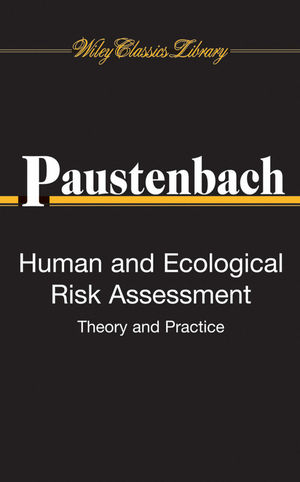 Human and Ecological Risk Assessment: Theory and Practice (Wiley Classics Library)
ISBN: 978-0-470-25319-9 March 2009 1592 Pages
Description
Human and Ecological Risk Assessment: Theory and Practice assembles the expertise of more than fifty authorities from fifteen different fields, forming a comprehensive reference and textbook on risk assessment. Containing two dozen case studies of environmental or human health risk assessments, the text not only presents the theoretical underpinnings of the discipline, but also serves as a complete handbook and "how-to" guide for individuals conducting or interpreting risk assessments. In addition, more than 4,000 published papers and books in the field are cited.

Editor Dennis Paustenbach has assembled chapters that present the most current methods for conducting hazard identification, dose-response and exposure assessment, and risk characterization components for risk assessments of any chemical hazard to humans or wildlife (fish, birds, and terrestrials). Topics addressed include hazards posed by:
Air emissions
Radiological hazards
Contaminated soil and foods
Agricultural hazards
Occupational hazards
Consumer products and water
Hazardous waste sites
Contaminated air and water
The bringing together of so many of the world's authorities on these topics, plus the comprehensive nature of the text, promises to make Human and Ecological Risk Assessment the text against which others will be measured in the coming years.
Buy Both and Save 25%!
Original Price:$371.00
Purchased together:$278.25
save $92.75
Cannot be combined with any other offers.
FOREWORD (
William Reilly
).
FOREWORD TO THE FIRST EDITION (William Ruckelshaus).
PREFACE (Dennis Paustenbach).
CONTRIBUTORS.
ABOUT THE AUTHOR.
SECTION A. THEORY:HUMAN HEALTH ASSESSMENT.
1. Primer on Human and Environmental Risk Assessment.
2. Hazard Identification.
3. Dose-Response Modeling for Cancer Risk Assessment.
4. Exposure Assessment.
5. Risk Characterization.
SECTION B. THEORY:ECOLOGICAL RISK ASSESSMENT.
6. Ecological Risk Assessment:History and Fundamentals.
SECTION C. CASE STUDIES INVOLVING CONTAMINATED WATER.
7. Assessing the Risks Posed by Chromium in Groundwater:A Case Study Involving 300 Residents.
8. Estimating the Value of Research:Illustrative Calculation for Ingested Inorganic Arsenic.
SECTION D. CASE STUDY INVOLVING CONTAMINATED SOILS.
9. Risk Assessment of Chromium-Contaminated Soils: Twelve Years of Research to Characterize the Health Hazards.
SECTION E. CHARACTERIZING EXPOSURE TO AIR CONTAMINANTS.
10. Quantification of Variability and Uncertainty: Case Study of Power Plant Hazardous Air Pollutant Emissions.
11. Characteristic Time,Characteristic Travel Distance,and Population-Based Potential Dose in a Multimedia Environment: A Case Study.
SECTION F. EVALUATING OCCUPATIONAL HAZARDS.
12. Methods for Setting Occupational Exposure Limits.
13. Worker Hazard Posed by Reentry Into Pesticide-Treated Foliage: Reassessment of Reentry Levels/Intervals Using Foliar Residue Transfer -Percutaneous Absorption PBPK/PD Models, with Emphasis on Isofenphos and Parathion.
SECTION G. CASE STUDY INVOLVING EXPOSURE TO RADIONUCLIDES.
14. Dose Reconstructions for Radionuclides and Chemical: Case Study Involving Federal Facilities at Oak Ridge,Tennessee.
SECTION H. EVALUATING RISK TO FOODS.
15. Transport of Persistent Organic Pollutants to Animal Products: Fundamental Principles and Application to Health Risk Assessment.
16. Estimating Dietary Exposure:Methods,Algorithms,and General Considerations.
17.Analysis of Possible Health Risks to Recreational Fishers Due to Ingesting DDT and PCBs in Fish from Palos Verdes Shelf and Cabrillo Pier.
SECTION I. ASSESSING RISKS ASSOCIATED WITH CONSUME PRODUCTS.
18. Qualitative Health Risk Assessment of Natural Rubber Latex in Consumer Products.
SECTION J. CASE STUDIES IN ECOLOGICAL RISK ASSESSMENT.
19. Determining Values:A Critical Step in Assessing Ecological Risk.
20. Comparison of Aquatic Ecological Risk Assessments at a Former Zinc Smelter and a Former Wood Preservative Site.
21. Integration of Risk Assessment and Natural Resource Damage Assessment: Case Study of Lavaca Bay.
SECTION K. ASSESSING RISKS TO BIRDS.
22. Using Probabilistic Risk Assessment Methods To Predict E ¤ects of Pesticides on Aquatic Systems and Waterfowl That Use Them.
23. Methodology for Assessing Risk to Birds Following Application of Sprayable Pesticide to Citrus:Case Study Involving Chlorpyrifos.
24. Using Ecological Risk Assessment to Evaluate Potential Risks Posed by Chemicals to Birds.
SECTION L. RISK ASSESSMENT AND LIFE-CYCLE ANALYSES.
25. Life-Cycle Impact Analysis:A Challenge for Risk Analysts.
SECTION M. RISK COMMUNICATION AND RISK MANAGEMENT.
26. Risk Assessment in Its Social Context.
27. Trust, Emotion, Sex, Politics,and Science: Surveying the Risk-Assessment Battlefield.
28. Democratization of Risk Analysis.
29. Misconceptions About the Causes of Cancer.
SECTION N. EVOLVING ISSUES.
30. Children 's Health and Environmental Exposure to Chemicals: Implications for Risk Assessment and Public Health Policy.
31. Cost -Benefit Analysis.
32. Precaution in a Multirisk World.
INDEX.