Hunting - Philosophy for Everyone: In Search of the Wild Life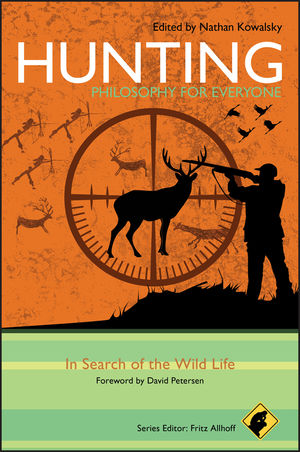 Hunting - Philosophy for Everyone: In Search of the Wild Life
ISBN: 978-1-444-32769-4
Aug 2010, Wiley-Blackwell
280 pages
Description
Hunting - Philosophy for Everyone presents a collection of readings from academics and non-academics alike that move beyond the ethical justification of hunting to investigate less traditional topics and offer fresh perspectives on why we hunt.
The only recent book to explicitly examine the philosophical issues surrounding hunting
Shatters many of the stereotypes about hunting, forcing us to rethink the topic
Features contributions from a wide range of academic and non-academic sources, including both hunters and non-hunters
Foreword: Hunting as Philosophy (
David Petersen
).
Picking Up the Trail: An Introduction to Hunting - Philosophy for Everyone (Nathan Kowalsky).
Part I: The Good, the Bad, and the Hunter.
1 Taking a Shot: Hunting in the Crosshairs (Jesús Ilundáin-Agurruza).
2 But They Can't Shoot Back: What Makes Fair Chase Fair? (Theodore Vitali).
3 A Shot in the Dark: The Dubious Prospects of Environmental Hunting (Lisa Kretz).
4 Hunting Like a Vegetarian: Same Ethics, Different Flavors (Tovar Cerulli).
5 What You Can't Learn from Cartoons: Or, How to go Hunting After Watching Bambi (Gregory A. Clark).
 Part II: The Hunter's View of the World.
6 Hunting for Meaning: A Glimpse of the Game (Brian Seitz).
7 Getting By with a Little Help from My Hunter: Riding to Hounds in English Foxhound Packs (Alison Acton).
8 Tracking in Pursuit of Knowledge: Teachings of an Algonquin Anishinabe Bush Hunter (Jacob Wawatie and Stephanie Pyne).
9 Living with Dead Animals? Trophies as Souvenirs of the Hunt (Garry Marvin).
Part III: Eating Nature Naturally.
10 The Carnivorous Herbivore: Hunting and Culture in Human Evolution (Valerius Geist).
11 The Fear of the Lord: Hunting as if the Boss is Watching (Janina Duerr).
12 Hunting: A Return to Nature? (Roger J. H. King).
13 The Camera or the Gun: Hunting through Different Lenses (Jonathan Parker).
14 Flesh, Death and Tofu: Hunters, Vegetarians and Carnal Knowledge (T.R. Kover).
Part IV: The Antler Chandelier: Hunting in Culture, Politics and Tradition.
15 The Sacred Pursuit: Reflections on the Literature of Hunting (Roger Scruton).
16 Big Game and Little Sticks: Bow Making and Bow Hunting (Kay Koppedrayer).
17 Going to the Dogs: Savage Longings in Hunting Art (Paula Young Lee).
18 The New Artemis? Women Who Hunt (Debra Merskin).
19 Off the Grid: Rights, Religion and the Rise of the Eco-Gentry (James Carmine).
Notes on Contributors.
"Kowalsky's book does a fine job in showing why there are good reasons to keep hunting in high esteem, to learn a great deal from it about human biology and culture, and to eat hunted meat." (About.com, 25 October 2011)
"Recommended. Academic and general library collections, all levels." (Choice, 1 March 2011)
"If you don't mind having your convictions challenged or your viewpoint broadened this book should be on your reading list." (Alberta Outdoorsmen, 1 May 2011)
"Just as you always see something new, even if you've walked that forest a hundred times before, certain essays can give you a glimpse of something you hadn't seen or thought of before. Some of the essays are even down-right fun to read." (Primitive Archer Magazine, January 2011)"Nathan Kowalsky provides a forum of diverse ideas and voices about "hunting" that ensemble, becomes the most recent attempt that I am aware of at showcasing serious writers on the "topic." Most of these essays are written with an intelligent audience in mind, although the reader need not be a philosopher."( The Trumpeter, 1 December 2010)
"It does provide fresh perspectives by both academic and non academic authors on a variety of hunting topics such as hunting in culture, politics and tradition; the relationship of hunting to nature and human nature and the hoary old topic of hunting ethics... In my opinion, I found it the most refreshing book of its kind that I have read in years." (AFRICAN INDABA, November 2008)
"Presenting all these diverse views in one relatively small book, a mere 258 pages, is a vision implemented, without which, most readers invested in learning more about hunting, would sorely miss if they knew their want". (Book Review , 1 December 2010).
 There's a really fine essay by the biologist Valerius Geist on how hunting has played a significant role in human development. Kay, my wife, contributed an essay on bow-hunting with self-made equipment. There are other essays on the human-animal relationship, even a few comparing hunting to vegetarianism. Lots of other provocative pieces." (Leather Wall, September 2010)
"If you're interested in sharpening your thinking skills on the subject of hunting, I've got a great new book for you: Hunting - Philosophy for Everyone: In Search of the Wild Life." (NorCal Cazadora, October 2010)
"Featuring contributions from a wide range of academic and non-academic sources, including both hunters and nonhunters, this book is for general readers, especially those who hunt ("Hunting for Meaning: A Glimpse of the Game"), as well as self-professed "foodies" and vegetarians." (Fishing and Outdoors Newspaper, October 2010)