Hybrid Vascular Procedures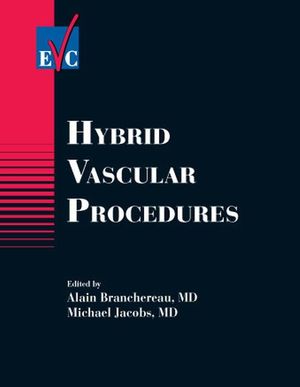 Hybrid Vascular Procedures
ISBN: 978-1-405-12489-8 June 2004 Wiley-Blackwell 272 Pages
Description
Among recent developments in vascular surgical techniques is the use of surgical strategies in which different techniques are combined.
Hybrid Vascular Procedures
discusses those procedures including endovascular and open surgery, endovascular and laparoscopic surgery, robotic and laparoscopic surgery, and video-assisted procedures.
The various chapters, written by international experts in the field, describe hybrid procedures in the supra-aortic trunks and cerebral arteries, in the thoracic aorta, the abdominal aorta, the lower limbs, and miscellaneous other procedures.

These new technologies and their application will determine the future of vascular surgery.
Table of contents
CONTENTS
.
Section 1: GENERALITIES.
Chapter 1 - The operating theatre of the future.
Broeders/M. Jacobs.
Chapter 2 - Beyond evidence based surgery: the case for hybrid and unusual procedures.
Clara/F. Vidal-Barraque.
Section 2: SUPRA-AORTIC TRUNKS AND CEREBRAL ARTERIES.
Chapter 3 - Carotid endarterectomy and reopening of intra-cerebral arteries by PTA or thrombolysis.
J. Allenberg.
.
Chapter 4 - Carotid endarterectomy associated with PTA of the supra-aortic arteries.
J.P. Favre.
.
Chapter 5 - First rib resection associated with PTA, thrombolysis or vascular reconstruction.
P. Feugier.
Section 3: THORACIC AORTA.
Chapter 6 - Hybrid procedures for Type B dissection.
R. Chiesa.
Chapter 7 - Endoluminal repair of the aortic arch combined with revascularization of supra-aortic arteries.
E. Kieffer.
Chapter 8 - When to revascularize the subclavian artery in aortic thoracic stenting?.
V. Riambau.
Chapter 9 - Endoluminal repair of thoracoabdominal aneurysms combined with revascularization of the visceral arteries.
J. Wolfe.
.
Chapter 10 - Endovascular treatment of thoracic aneurysms associated with open surgery of the infrarenal aorta for tandem lesions.
G.W. Schurink.
Chapter 11 - Open procedures to acquire aortic access for endoluminal grafting.
P. Taylor.
Section 4: ABDOMINAL AORTA.
Chapter 12 - Hand-assisted techniques in laparoscopic infrarenal aortic reconstruction.
Y. Alimi.
Chapter 13 - Robotic-assisted laparoscopic surgery of the infrarenal aorta.
W. Wisselink.
Chapter 14 - Endovascular aortic reconstruction combined with elective open surgery.
J.P. Becquemin.
Chapter 15 - Hybrid procedures for aortic repair by means of home-made aortic devices.
M. Malina.
Chapter 16 - Endovascular aortic reconstruction combined with laparoscopic surgery.
J. Edoga.
.
Chapter 17 - Long-term complications of endovascular aortic repair by means of laparoscopic techniques.
R. Kolvenbach.
Chapter 18 - Embolization or revascularization of hypogastric arteries during endovascular aortic repair.
P. Cao.
Section 5: LOWER LIMBS.
Chapter 19 - Proximal PTA associated with distal arterial surgical reconstruction.
E. Rosset/A. Branchereau.
Chapter 20 - Ring PTA techniques for femoropopliteal reconstruction.
F. Moll.
Chapter 21- Distal bypass combined with free vascular flap.
M. Lepantalo.
Chapter 22 - Fluoroscopy guided thrombectomy and other endovascular adjuncts for acute occlusion of the lower limbs arteries.
J. Blankensteijn.
Section 6: MISCELLANEOUS.
Chapter 23 - Venous thrombectomy combined with iliocaval stenting.
R. Gunther.
Chapter 24 - Embolization combined with open surgery to treat complex congenital vascular malformations.
Ch. van der Horst.
Chapter 25 - Hybrid procedures in vascular access surgery.
V. Mickley.