Hydrocolloids in Food Processing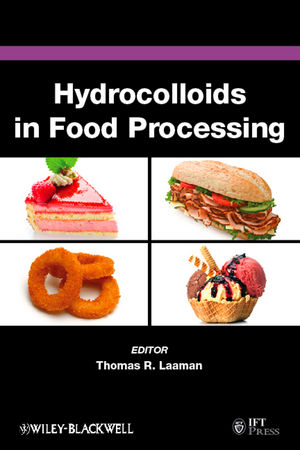 Hydrocolloids in Food Processing
ISBN: 978-0-470-96189-6
Jun 2011, Wiley-Blackwell
360 pages
Description
In Hydrocolloids in Food Processing, a group of the most experienced and impartial experts explains what stabilizers should be used and how they should be used, food product by food product. Numerous actual product formulations are packed into each chapter and the processing procedures to make these formulations are clearly described. Food manufacturers are shown how to accurately use food stabilizers to make the highest quality food products. Coverage includes all the practical details needed to ensure the most accurate QA standards and testing procedures for each hydrocolloid. Finally, Hydrocolloids in Food Processing explains how to navigate the often tricky area of dealing with hydrocolloid suppliers. An informative discussion of how hydrocolloid companies think and operate today is followed by precise strategies to ensure that the most mutually beneficial relationships can be obtained between specific customer types and appropriate types of suppliers.
Preface.
Contributor List.
Chapter 1 Hydrocolloids: Fifteen Practical Tips (Thomas R. Laaman).
Chapter 2 Hydrocolloids in Salad Dressings (Alan H. King).
Chapter 3 Hydrocolloids in Muscle Foods (James W. Lamkey).
Chapter 4 Hydrocolloids in Bakery Products (William Santa Cruz).
Chapter 5 Hydrocolloids in Bakery Fillings (Marceliano B. Nieto and Maureen Akins).
Chapter 6 Hydrocolloids in Frozen Dairy Desserts (Philip A. Rakes and Thomas R. Laaman).
Chapter 7 Hydrocolloids in Cultured Dairy Products (Joseph Klemaszewski).
Chapter 8 Hydrocolloids in Restructured Foods (Ian Challen and Ralph Moorhouse).
Chapter 9 Hydrocolloids in Flavor Stabilization (Milda E. Embuscado).
Chapter 10 Hydrocolloid Purchasing I: History and Product Grades (Thomas R. Laaman).
Chapter 11 Hydrocolloid Purchasing II: Pricing and Supplier Evaluation (Thomas R. Laaman).
Index.


Expert guidance on choosing and using stabilizers to ensure high quality food products


Ensures beneficial relationships between food manufacturers and hydrocolloid suppliers


Numerous actual product formulations in each chapter