Hydrogen Storage Technologies: New Materials, Transport, and Infrastructure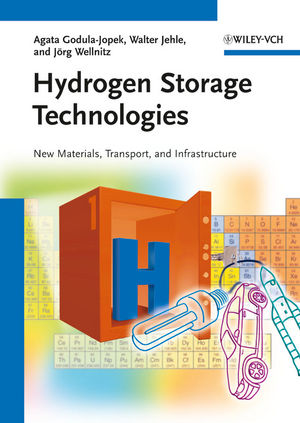 Hydrogen Storage Technologies: New Materials, Transport, and Infrastructure
ISBN: 978-3-527-64994-5 July 2012 264 Pages
Description
An exploration of current and possible future hydrogen storage technologies, written from an industrial perspective. The book describes the fundamentals, taking into consideration environmental, economic and safety aspects, as well as presenting infrastructure requirements, with a special focus on hydrogen applications in production, transportation, military, stationary and mobile storage.

A comparison of the different storage technologies is also included, ranging from storage of pure hydrogen in different states, via chemical
storage right up to new materials already under development. Throughout, emphasis is placed on those technologies with the potential
for commercialization.
Introduction

FUNDAMENTALS
Phase Diagram
Energy Density
Safety Aspects
Production of hydrogen (reforming, water electrolysis, gasification, biomass conversion, biological production - bacteria, fermentation,photosynthesis; photo dissociation, splitting of water)

HYDROGEN APPLICATIONS /
INFRASTRUCTURE REQUIREMENT
Production
Transportation
Filling station
Stationary
Military (portables, submarines, balloons?)
Portable

STORAGE OF PURE HYROGEN IN DIFFERENT STATES
Compressed Hydrogen
Liquid /
Slush Hydrogen
Metal Hydrides

CHEMICAL STORAGE
Hydrocarbons
Ammonia
Borates

HYDROGEN STORAGE OPTIONS -
COMPARISON
Economic Considerations
Safety Considerations
Environmental Considerations /
Waste, Hazardous Materials
Dimension Considerations
Sociological Considerations

NEW MATERIALS /
OUTLOOK
Hydropolysilane (HPS)
Storage in Carbon Materials
Storage in Micro Spheres
Other Materials
Outlook