Hydrolysis, Oxidation and Reduction, Volume 1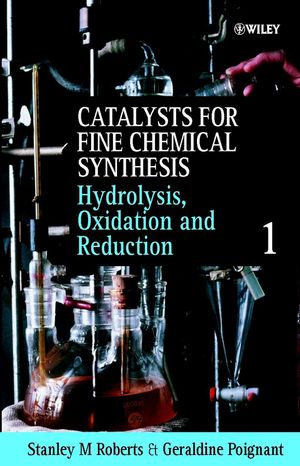 Hydrolysis, Oxidation and Reduction, Volume 1
ISBN: 978-0-471-98123-7 September 2002 244 Pages
Description
Catalysts are increasingly used by chemists engaged in fine chemical synthesis within both industry and academia. Today, there exists a huge choice of high-tech catalysts, which add enormously to the repertoire of synthetic possibilities. However, catalysts are occasionally capricious, sometimes difficult to use and almost always require both skill and experience in order to achieve optimal results. This series aims to be a practical help for advanced undergraduate, graduate and postgraduate students, as well as experienced chemists in industry and academia working in organic and organometallic synthesis.
The series features:
* Tested and validated procedures.
* Authoritative reviews on classes of catalysts.
* Assessments of all types of catalysts.
* Expertise from the Leverhulme Centre for Innovative Catalysis, Liverpool, UK.
The review section in the first volume of the series contains a report by Stanley M. Roberts on the integration of biotransformations into the catalyst portfolio.
The procedure section contains a wide variety of synthetic protocols, such as epoxidations of unsaturated ketones and esters, asymmetric reductions of carbon-oxygen double bonds, asymmetric hydrogenations of carbon-carbon double bonds and other types of reaction. The featured catalysts include a wide range of different materials such as poly-D-leucine, D-fructose-based dioxiranes, oxaborolidine borane, some important titanium and ruthenium complexes as well as baker's yeast. For each reaction there are one or several detailed protocols on how to prepare and employ the various catalysts.
Table of contents
Series Preface.

Preface to Volume 1.

Abbreviations.

PART I: REVIEW.

1. The Integration of Biotransformations into the Catalyst Portfolio.

PART II: PROCEDURES.

2. General Information.

3. Asymmetric Epoxidation.

4. Epoxidation of , -Unsaturated Carbonyl Compounds.

5. Epoxidation of Allylic Alcohols.

6. Epoxidation of Unfunctionalized Alkenes and , -Unsaturated Esters.

7. Asymmetric Hydroxylation and Aminohydroxylation.

8. Asymmetric Sulfoxidation.

9. Asymmetric Reduction of Ketones Using Organometallic Catalysts.

10. Asymmetric Reduction of Ketones Using Baker's Yeast.

11. Asymmetric Reduction of Ketones Using Nonmetallic Catalysts.

12. Asymmetric Hydrogenation of Carbon-Carbon Double Bonds Using Organometallic Cataluysts.

13. Employment of Catalysts Working in Tandem.

Index.
Reviews
"Everyone who is concerned with...pure compounds will be able to use this handy book..." (
Angewandte Chemie
, International Edition, Vol. 42, 2003)
"...the book clearly fulfills its purpose to provide a practical introduction?it will be useful..." (CATTECH, August 2003)