Hydropower Developments: New Projects, Rehabilitation, and Power Recovery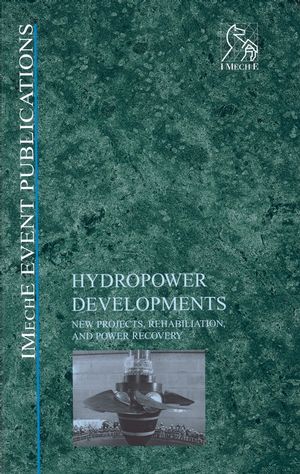 Hydropower Developments: New Projects, Rehabilitation, and Power Recovery
ISBN: 978-1-860-58479-4
Apr 2005
160 pages
Description
International experts in the field of hydropower come together in this informative volume to explore hydraulic design and new developments, as well as rehabilitation upgrades and new applications. This volume covers examples of projects being carried out - innovative new designs of turbines, the challenges faced when refurbishing old plant, and latest technology in the capturing of energy from low weirs, rivers, and oceans.

Topics include:
Hydraulic design/new developments

Innovation re-engineering

Rehabilitation

Upgrades/applications
Hydropower Developments - New Projects, Rehabilitation, and Power Recovery will be essential for anyone wishing to keep up-to-date with developments in the hydropower industry including design manufacturers, consultants, contractors, operators, and all those involved in the hydroelectric power industry. 
Hydraulic Design/New Developments

S967/008/2004 Hydro turbines rehabilitation

B Michel, M Couston, M Francois, and M Sabourin

S967/006/2004 Hydropower generation with StrafloMatrix(TM) - further refinement to the matrix technology

M Schneeberger and H Schmid

S967/007/2004 Innovation - the hooped pelton runner

M Traversaz, J Ball, P Lowys, and G Vuillerod

Innovation/Re-engineering

S967/004/2004 Economic energy from low-head water by conversion to air pressure

M B Widden, M J French, and G A Aggidis

S967/002/2004 The development of a novel hydro-electric plant for rivers and oceans

P S Leung

S967/009/2004 Re-engineering of hydropower parts

G P Scott

Rehabilitation

S967/003/2004 Experience from repairs of flooded hydro-generators

T Turek

S967/010/2004 Penstock protection butterfly valves for Nathpa Jhakri Project, India

V G Chillal

S967/005/2004 Rehabilitation of radial gates within the UK hydropower industry

R J Digby and JP Selbie

Upgrades/Applications

S967/001/2004 The implementation of Contract 103-200 for the design, supply, installation, and commissioning of the main electro-mechanical plant for the Caruachi Hydro-electric Project, Venezuela

P Lazenby

S967/011/2004 The complete refurbishment of Culligran underground hydropower station

A Erskine and O van Rooy

Authors' Index