Hyperdream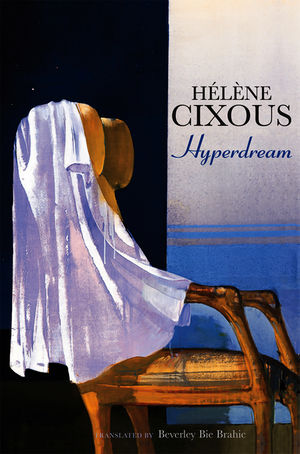 Hyperdream
ISBN: 978-0-745-64299-4 March 2009 Polity 176 Pages
Description
Hyperdream
is a major new novel by celebrated French author Hélène Cixous. It is a literary tour de force, returning anew to challenge necessity itself, the most implacable of human certainties: you die in the end – and that's the end. For you, for me.
But what if? What if death did not inevitably spell the end of life?
Hyperdream invests this fragile, tentative suspension of disbelief with the sheer force of its poetic audacity, inventing a sort of magic telephone: a wireless lifeline against all the odds to the dearly departed.
It is a book about time, age, love and the greatest loss. A book which turns on death: on the question or the moment of death, depending on it, expecting it, living off it, taking place at once before and after, but at the same time turning against it, contesting it, outwriting it hopefully, desperately, performatively, as an interruptible interruption.
Hyperdream is a book of mourning, but also of morning, a tragedy-with-comedy and a universal family romance in which it transpires that the narrator is the veritable offspring of a "treasure of literature" in the form of a bed, purchased by her mother from a certain W. Benjamin in 1934, slept on for 40 years by her brother and dreamt of by her friend "J.D."
Table of contents
Translator's Notes.
Author's Foreword.
I Before the End.
II Benjamin's Bedspring.
III A Leave
Reviews
"Moving, complex and lyrical, it is a crucial work."
The Herald
"The act of writing, Cixous claimed, 'is linked to the experience of disappearance, to the feeling of having lost the key to the world'. Hyperdream offers a world full of such absence ... It hovers, dreamily between novel and memoir."
Times Literary Supplement
"Hélène Cixous is today the greatest writer in what I shall call, if I may, my language, French. And I weigh my words in saying this. For a very great writer must be a poet-thinker, very much a poet and a very thinking poet."
Jacques Derrida
Features
Helene Cixous is one of France's leading contemporary writers.
This new book is a work of fiction about the most implacable of human certainties - death.

It explores death, mourning and loss by means of a poetic fiction: imagining a magic telephone through which one can open up a lifeline to departed loved ones.

Cixous is credited with the invention of 'ecriture feminine', a distinctive kind of feminine writing, and her books are widely read in the English-speaking world, both among general readers and students of feminism and literature.