Hypermodern Times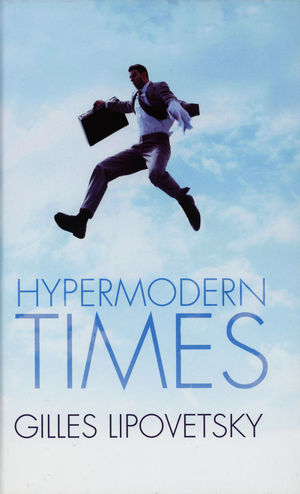 Hypermodern Times
ISBN: 978-0-745-63421-0 April 2005 Polity 150 Pages
Description
The term 'postmodernity' has been used to describe that historical transformation of the late 20th century when the institutional breaks holding back individual emancipation disintegrated, thereby giving rise to the full expression of individual desires and the quest for self-fulfilment. But there are now signs – argues Gilles Lipovetsky, one of the most original social thinkers in France today – that we've entered a new phase of 'hypermodernity', characterized by hyper-consumption and the hypermodern individual.
Hyperconsumption is a consumption which absorbs and integrates more and more spheres of social life and which encourages individuals to consume for their own personal pleasure rather than to enhance their social status. Hypermodernity is a society characterized by movement, fluidity and flexibility, distanced more than ever from the great structuring principles of modernity. And the hypermodern individual, while oriented towards pleasure and hedonism, is also filled with the kind of tension and anxiety that comes from living in a world which has been stripped of tradition and which faces an uncertain future. Individuals are gnawed by anxiety; fear has superimposed itself on their pleasures, and anguish on their liberation. Everything worries and alarms them, and there are no longer any beliefs systems to which they can turn for assurance. These are hypermodern times.
Table of contents
Foreword
Paradoxical individualism: An introduction to the thought of Gilles Lipovetsky, by Sébastien Charles 9
Time against time, or Hypermodern society 51
Notes 113
Stages in an intellectual itinerary: A conversation between Gilles Lipovetsky and Sébastien Charles 118
Bibliography of publications by Gilles Lipovetsky 142
Features


Lipovetsky is an important thinker in France and his ideas and responses to current intellectual debates surrounding modernity and postmodernity discussed in this book will travel well.

This book presents a highly original new way of thinking about modern society and the individual.

The book is short and concise and provides a good introduction to Lipovetsky's work as a whole.

The book will provide an excellent overview of the theories of modernity, post modernity and hypermodernity for the upper level student.