Hypnosis in Europe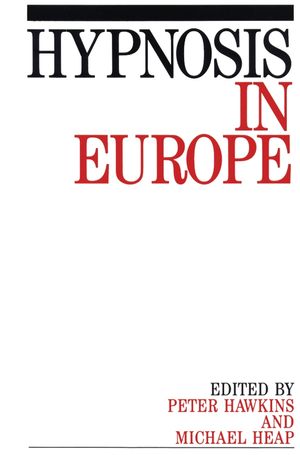 Hypnosis in Europe
ISBN: 978-1-897-63568-1 June 1998 234 Pages
Description
The last 40 years have witnessed an upsurge of interest and activity in the field of hypnosis amongst academic and applied psychologists, medical practitioners from a wide range of specialities, dentists and many other health service professionals, as well as the public at large.
Table of contents
Preface -
Peter Hawkins and Michael Heap.
Introduction - Irving Kirsch.
Chapter 1 Hypnois in Austria - Hans Kanitschar, Marianne Martin and Henriette Walter.
Chapter 2 Hypnosis in Britain and Ireland - Michael Heap.
Chapter 3 Hypnosis in the Czech Republic and former Czechoslovakia - Mojmir Svoboda and Juraj Barnaric.
Chapter 4 Hypnosis in Denmark - Jens-Jorgen Gravesen.
Chapter 5 Hypnosis in France -Jeannot Hoareau.
Chapter 6 Hypnosis in Germany - Burkhard Peter.
Chapter 7 Hypnosis in Greece - J.N. Nestoros, V. Patakou-Parassiri, G. Sfakianakis and V.G.S. Vasdekis.
Chapter 8 Hypnosis in Israel - Moris Kleinhauz and Viorica Delano.
Chapter 9 Hypnosis in Italy - Camillo Loriedo and Gugielmo Gulotta.
Chapter 10 Hypnosis in The Netherlands and Belgium - Onno Van Der Hart, Johan Vanderlinden, Philip Spinhoven and Eric Vermetten.
Chapter 11 Hynosis in Norway - Geir Hostmark Nielsen and Bjorn Wormnes.
Chapter 12 Hypnosis in Poland - Jerzy Siuta and Agnieszka Niedzwienska.
Chapter 13 Hypnosis in Slovenia - Marjan Pajntar.
Chapter 14 Hypnosis in Spain and Porugal - Teresa da Silva, Antonio Capaforns and Peter Hawkins.
Chapter 15 Hypnosis in Sweden - Claus Garmer.
Chapter 16 Hypnosis in Switzerland - Konrad Wolff.