Hypodontia: A Team Approach to Management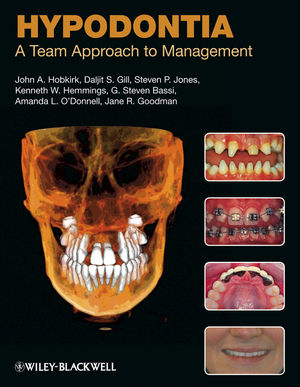 Hypodontia: A Team Approach to Management
ISBN: 978-1-444-32928-5 November 2010 Wiley-Blackwell 208 Pages
Description
Hypodontia: A Team Approach to Management provides specialist clinicians with a practical reference to the multidisciplinary management of patients with this condition. The book synthesises current information and best practice from specialties involved in the treatment of hypodontia into one comprehensive volume, emphasising a problem-based approach throughout.

This volume is structured over three sections. Part One offers background information on the epidemiology and aetiology of hypodontia, its inheritance patterns and syndromic associations, as well as describing the clinical features of the condition and outlining the importance of a multidisciplinary approach to patient care. Part Two addresses key issues in hypodontia management, namely challenges posed by excessive or inadequate space within and between the dental arches, specific occlusal considerations, and problems related to the supporting tissues. Part Three considers treatment of hypodontia within the framework of three broad stages of dental development: the primary/early fixed dentition, the late mixed dentition/early permanent dentition, and finally the established dentition.

Hypodontia: A Team Approach to Management draws on the best available evidence and opinion to provide a complete, in-depth practical resource for dental specialists dealing with this complex condition.
Complete multidisciplinary resource on hypodontia

Authored by a team with over 30 years of clinical and research experience in the treatment of hypodontia

Extensive reference lists

Features comprehensive section on age-related approaches to treatment

Many clinical illustrations in full colour
Acknowledgements.
Introduction.
Part 1: Background.
1 Definitions, Prevalence and Aetiology.
2 Features.
3 Providing Care.
Part 2: Key Issues.
4 Space.
5 Occlusion.
6 Supporting Tissues.
Part 3: Age-Related Approaches to Treatment.
7 Primary/Early Mixed Dentition.
8 Late Mixed and Early Permanent Dentition.
9 Established Dentition with Hypodontia.
Glossary of Terms.
Index.
"In summary, this book gives a good overview of the principles of multidisciplinary team management of patients affected by hypodontia. It is a good reference for anyone with an interest in hypodontia and it should be included in all teaching hospital libraries."  (European Journal of Orthodontics, 1 August 2013)
"The book is a gold mine of source material on the subject, with evidence originating from the work of the author team justifiably presented … This is an extremely useful reference and clinical guide for a wide range of practising dentists."  (Dental Update, 1 July 2012)
""This very informative, easy to read book has been written by members of the Eastman Dental Institute's Multidisciplinary Hypodontia Team. It compiles and incorporates a wealth of knowledge gained over 33 years of multidisciplinary hypodontia treatment at the Eastman."" (British Dental Journal, 9 March 2012)
""What the authors fail to mention is that books specifically devoted to hypodontia are, to use a pseudo-dental phrase, as rare as hen's teeth, so this must surely be a welcome addition to the ever-burgeoning family of dental textbooks."" (British Dental Association, 1 October 2011)