Hypoglycaemia in Clinical Diabetes, 2nd Edition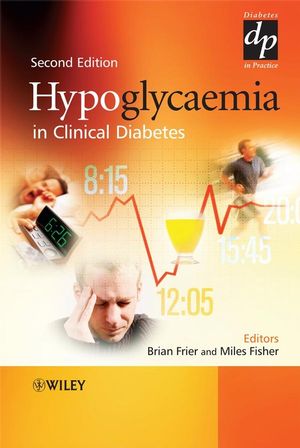 Hypoglycaemia in Clinical Diabetes, 2nd Edition
ISBN: 978-0-470-51627-0 October 2007 358 Pages
Description
Hypoglycaemia, leading to confusion and impaired consciousness, is one of the most feared complications of diabetes. 
Hypoglycaemia in Clinical Diabetes, Second Edition
explains the situations in which it arises and how to manage patients to minimize its occurrence. Fully revised and updated, the Second Edition of this practical book addresses all aspects of the clinical management of hypoglycaemia.
Features new chapters on hypoglycaemia in Type 2 diabetes, the elderly and nocturnal occurrence, as well as prevention and blood glucose monitoring for detection of hypoglycaemia
Edited by two diabetologists with strong international reputations who have made significant contributions to our understanding of hypoglycaemia
Hypoglycaemia in Clinical Diabetes, Second Edition is an invaluable reference source for professionals caring for people with diabetes. The book is relevant for all clinicians who treat type 1 diabetes or type 2 diabetes.
Praise for the First Edition:
"I can strongly recommend this excellent book to all clinicians managing care for diabetic persons in everyday practice...." DIABETOLOGIA
"...is extremely comprehensive, well written… highly recommended for those practising clinical diabetes." BRITISH JOURNAL OF CARDIOLOGY
"A fascinating book; essential reading for those who feel they need a greater understanding of the subject." DIETETICS TODAY
Table of contents
Chapters and Contributors.
1. Normal glucose metabolism and responses to hypoglycaemia(Ian A Macdonald and Paromita King).
2. Symptoms of hypoglycaemia and effects on mental performance and emotions (Ian J Deary).
3. Frequency, causes and risk factors for hypoglycaemia in type 1 diabetes (Mark W J Strachan).
4. Nocturnal hypoglycaemia (Simon Heller).
5. Moderators, monitoring and management of hypoglycaemia (Tristan Richardson and David Kerr).
6. Counterregulatory deficiencies in diabetes (David Kerr).
7. Impaired awareness of hypoglycaemia (Brian M Frier).
8. Risks of strict glycaemic control (Stephanie A Amiel).
9. Hypoglycaemia in children with diabetes (Krystyna A Matyka).
10. Hypoglycaemia and pregnancy (Ann E Gold and Donald W M Pearson).
11. Hypoglycaemia in type 2 diabetes and the elderly (Nicola N Zammitt and Brian M Frier).
12. Mortality, cardiovascular morbidity and possible effects of hypoglycaemia on diabetic complications (Simon Heller and B Miles Fisher).
13. Long-term effects of hypoglycaemia on cognitive function and the brain in diabetes (Petros Perros and Ian J Deary).
14. Living with hypoglycaemia (Brian M Frier).
Reviews
"…a thorough overview of hypoglycemia and its clinical significance to those who live with diabetes." (Doody's Book Reviews)
Errata
Chapter
Page
Details
Date
Print Run
292
Text correction
The legend for Figure 13.3 on page 292 should now read: "EEG from a 13-year old diabetic patient showing increased amount of slow activity at plasma glucose levels of 4.0, 2.9, and 2.1 mmol/l. Epileptiform spikes intermixed with rhythmic delta activity are also observed at 2.1 mmol/l, and some slow-wave theta activity remains in the post-hypoglycaemia recording".
07/09

---