Hypoglycemia For Dummies, 2nd Edition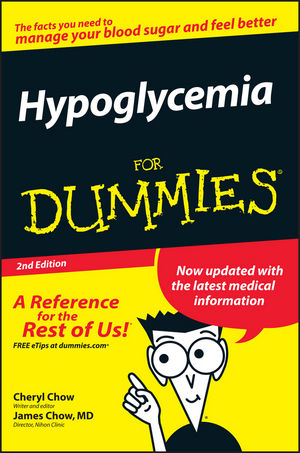 Hypoglycemia For Dummies, 2nd Edition
ISBN: 978-0-470-12170-2
Mar 2007
288 pages
Description
Hypoglycemia simply means "low blood-sugar," but without concrete symptoms it's very hard to diagnose. It is nevertheless a condition that should be watched over carefully. People react differently to low blood sugar as well as to the treatment they receive. Hypoglycemia for Dummies explores this fickle condition and shows you how to manage your blood sugar to feel better.

This no-nonsense, plain-English guide lays out the facts you need to maintain a healthy body. It offers expert advice on identifying symptoms, changing lifestyles, and also extensive coverage on diet, exercise, alternative treatments, and the link between low blood sugar and diabetes. This expanded 2nd edition provides:
A thorough explanation of hypoglycemia and how it affects your body
Exercise routines that lead to a healthier lifestyle
Diet suggestions on what to eat and how often
A basis for choosing a doctor that's right for you
Vitamins and supplements that treat your symptoms
Ways to manage hypoglycemia in the workplace
An explanation of how hypoglycemia affects family and friends
Methods to de-stress yourself
Complete with tips on helping other hypoglycemics and myth-debunking facts about the disease, Hypoglycemia for Dummies is the fast and simple way to learn and treat the condition, with the help of the most up-to-date medical information available. Escape the blood sugar blues and starting feeling better in no time!
Introduction.
Part I: Addressing Your Ups and Downs: Could This Be Hypoglycemia?
Chapter 1: Riding the Blood Sugar Roller Coaster Isn't Any Fun.
Chapter 2: Digesting Hypoglycemia: Your Body's Role.
Chapter 3: Symptoms without a Cause.
Part II: Diagnosing and Treating Your Hypoglycemia.
Chapter 4: Matching Up with the Right Doc.
Chapter 5: Getting the Lowdown on Low Blood Sugar.
Chapter 6: Gorging on Good Health.
Chapter 7: Hanging with Herb and His Buddies.
Vitamin and Supplement.
Part III: Emulating Lifestyles of the Well and Healthy.
Chapter 8: Easing Symptoms and Energizing with Exercise.
Chapter 9: All Stressed Out and Nowhere to Go.
Chapter 10: Defanging the Depression Demons.
Chapter 11: Making It through Your Day at Work.
Part IV: Spinning a Network of Support for Yourself (and Others).
Chapter 12: Jockeying for Support.
Chapter 13: Dealing with Friends and Family: Eat and Let Eat.
Chapter 14: Suffering Along with Your Sweetie?.
Part V: The Part of Tens.
Chapter 15: Ten Myths about Hypoglycemia.
Chapter 16: Ten Hints for Helping Hypoglycemics.
Index.