I Didn't See It Coming: The Only Book You'll Ever Need to Avoid Being Blindsided in Business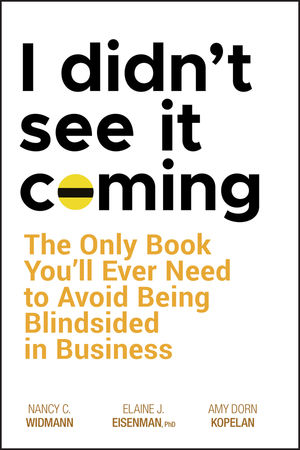 I Didn't See It Coming: The Only Book You'll Ever Need to Avoid Being Blindsided in Business
ISBN: 978-0-470-11645-6 April 2007 224 Pages
Description
Praise For I Didn't See It Coming
"In the fiercely competitive world of business, these authors learned how to play the game with skill and competence. They are uniquely qualified to teach others the rules of the workplace."
—PETER A. LUND, former president and chief executive officer, CBS, Inc.
"I Didn't See It Coming could change the way you think about your career and redefine your strategy to succeed in a corporation."
—ROBERT T. CORNELL, Managing Director, Lehman Brothers Inc.
"Candid and savvy, this book is the ultimate corporate politics rulebook. It provides clear and shrewd strategies to reach the corner office. Keep this book at your side at all times!"
—LYNNE DOMINICK, former publisher, Everyday Food magazine
"I Didn't See It Coming should be the bible for those climbing the corporate ladder. Every chapter gives me more and more critical strategies for reading the room and maneuvering through internal corporate politics."
—JASON JORDAN, Senior Sales Representative, T-Mobile
"In today's incredibly complex world, even the best leaders can make mistakes that prove fatal. In our work, we see it time and time again through our clients and executives. This book provides a very useful way to be better prepared to avoid those simple yet fatal mistakes."
—JERRY NOONAN, Partner, Spencer Stuart
Buy Both and Save 25%!
Original Price:$47.90
Purchased together:$35.93
save $11.97
Cannot be combined with any other offers.
Acknowledgments.
Introduction.
So Who Are We?
How This Book Is Different.
Managing Minefields.
Can You See It Coming?
1 Exit Strategies and Why You Need One.
An Exit Strategy: What It Is and Isn't.
Creating Your Exit Strategy.
Negotiating the End at the Beginning.
2 Taking the Reins.
A Smart Start.
Setting the Course.
Watch Out for Imprints in the Sand.
Have You Been Chosen over Your Peers?
Looking the Part.
3 The House of Mirrors, or How to Keep Your Perspective.
Sizing Up the Team.
Overstepping Boundaries.
The Unanticipated Pitfall.
Out of Sight Should Never Mean Out of Mind.
One More Look in the Mirror.
4 Comrades, Coalitions, and Competitors.
Your Own Band of Brothers or Sisters or Siblings or . . .
When Good Allies Go Bad.
It's Not Always Fair Play.
5 The Trouble with Teams.
Analyze Your Team.
Manage Your Image.
Think Like an Owner.
The Corporate League.
Strategies for Psyching Out the Team Dynamic.
6 Surviving a New Boss.
I Love the Smell of Chaos in the Morning.
And the Winner Is . . .
When Your Peer Gets the Nod.
7 Managing the Rank above You.
The Playbook.
Perception Traps.
8 Hidden Influents, or the Art of Managing Corporate Staff.
Financial Juggernaut.
Bodies, Benefits, and Boundaries.
Negotiators and Regulators.
Rogue Influents.
Know Who Your Friends Are—and Aren't.
9 The I-Didn't-See-It-Coming Moment.
Ten Red Flags and What They Really Mean.
Wielding Your Power on the Day of Reckoning.
The Four Laws of Survival.
Conclusion.
Notes.
Index.