I Hear What You Say, But What Are You Telling Me?: The Strategic Use of Nonverbal Communication in Mediation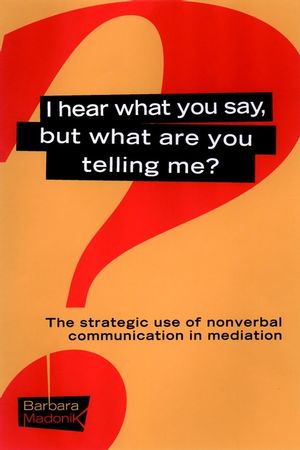 I Hear What You Say, But What Are You Telling Me?: The Strategic Use of Nonverbal Communication in Mediation
ISBN: 978-0-787-95709-4
Oct 2001, Jossey-Bass
320 pages
Description
I Hear What You Say, But What Are You Telling Me? is a fascinating, original, and invaluable tool kit filled with practical information and techniques for mediators who want to use nonverbal communication to their strategic advantage. Employing a proven process, Barbara Madonik--communication expert, mediator, and international consultant--reveals what it takes to understand, analyze, and utilize nonverbal communication to greatly enhance the mediation process.
Buy Both and Save 25%!
Original Price:$71.95
Purchased together:$53.96
save $17.99
Cannot be combined with any other offers.
Preface.

Acknowledgments.

Introduction.

Communication Realities.

A Blueprint for Nonverbal Strategies

Maximizing Your Results.

Part One: Essential Definitions and Practical Applications.

1. Essential Definitions-Terms and Tools.

Systems.

Cues.

Language.

Paralanguage.

Levels of Awareness.

Space.

Touch.

Time.

Objectics.

Symbolism.

2. Practical Applications-Representational Systems.

Eye Cues and Patterns.

Physical Cues and Patterns.

Language Cues and Patterns.

Paralanguage Cues and Patterns.

Deciding on a System.

3. Practical Applications-General Patterns and Techniques.

Understanding Messages in Patterns of Communication.

Identifying Individuals' Cues and Patterns.

Applying Nonverbal Techniques During Mediation.

Part Two: Seven Steps to Getting Results.

Step 1: Be Prepared.

Planning Ahead.

Having Useful Equipment On Hand.

Gathering Facts.

Step 2: Maximizing the Initial Telephone Contact.

Physical Factors In Telephone Communication.

Conversation Management.

Paralanguage Nuances.

Questioning.

Step 3: Managing the Environment.

Examining the Power Balance.

Providing for Safety.

Establishing Comfort.

Conveying Respect.

Step 4: Assessing the Parties.

Knowing Yourself.

Tracking the Big Picture.

Tracking Detailed Information.

Identifying Action Triggers.

Identifying Working Frameworks.

Step 5: Building Rapport.

Engaging the Parties.

Adjusting Your Responsiveness.

Changing Communication In the Room.

Configuring Productive Work Units.

Step 6: Triggering Action.

Coming Face-to-Face with the Real Issues.

Enabling the Parties to Build Momentum.

Dealing With Derailments.

Encouraging Physical Movement to Change Mental Positions.

Step 7: Bringing Closure.

Helping Parties Make Productive Decisions.

Presenting the Offer in a Compelling Way.

Guarding Against Buyer's Remorse.

Guiding the Parties To Craft the Final Agreement Jointly.

Helping Parties Leave the Conflict Behind.

Conclusion.

Appendix A: Taking Your Own Communication Inventory.

Appendix B: System Expressions.

Resources.

References.

About the Author.

Index.
""It is a useful guidebook that should be read several times to capture its wealth of information."" (The Texas Mediator, Fall 03)