I.O.U.S.A: One Nation. Under Stress. In Debt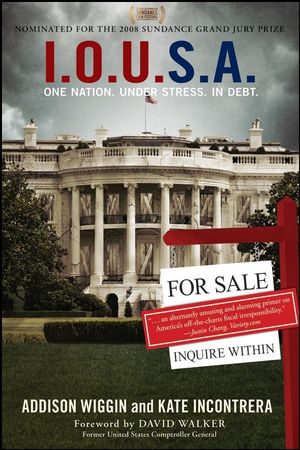 I.O.U.S.A: One Nation. Under Stress. In Debt
ISBN: 978-0-470-44047-6 November 2008 288 Pages
Description
The United States has been spending its way deeper and deeper into the red, and saddling future generations with the mess–but who's paying attention? To answer that question, this companion book to the critically acclaimed documentary I.O.U.S.A. talks with some of the most revered voices in the nation, including Warren Buffett; former Treasury Secretaries Paul O'Neill and Robert Rubin; and Pete Peterson, CEO of The Blackstone Group. Defiantly non-partisan, the empowering solutions outlined in these pages are a must-read for any American concerned about the current state of affairs.
Foreword.
I.O.U.S.A. Cast of Characters.
Acknowledgments.
Part One: The Mission.
The Mission.
Chapter 1 The Real State of the Union.
Chapter 2 The Budget Deficit.
Chapter 3 The Savings Deficit.
Chapter 4 The Trade Deficit.
Chapter 5 The Leadership Deficit
Epilogue.
Part Two: The Interviews.
The Interviews.
Alice Rivlin.
William Bonner.
Robert Rubin.
Peter G. Peterson.
Ron Paul.
Paul A. Volcker.
Dr. Alan Greenspan.
Warren Buffett.
James Areddy.
Paul O'Neill.
Arthur Laffer.
Steve Forbes.
Additional Resources.
Index.
Praise for the theatrical version of I.O.U.S.A.:
""I.O.U.S.A. is a clear, cogent and compelling primer on contemporary American economics and the not-so-small matter of how we ended up at the edge of a precipice."" -- Toronto Star
""The buck stops here in this sobering but disarmingly irreverent look at the national debt."" -- Hollywood Reporter
I.O.U.S.A. | 3.5 Stars! ""...it accomplishes an amazing thing. It explains the national debt, the foreign trade deficit, the decrease in personal savings, how the prime interest rate works, and the weakness of our leaders."" -- Roger Ebert
""An alternately amusing and alarming primer on America's off-the-charts fiscal irresponsibility."" -- Variety
""Equal parts enlightening and alarming, ""I.O.U.S.A."" highlights our unwise preference for short-term reward over long-term planning."" NY Times
""For anyone seeking a clearer understanding of the financial state of the union -- and strong enough to take the sobering news -- [I.O.U.S.A.] is a good place to start."" LA Times
""Some even wonder if it might do for the economy what Al Gore's ""An Inconvenient Truth"" did for the environment...""I.O.U.S.A"" is a bold attempt to highlight a potentially huge problem."" -- The Economist