I.T. in the Social Sciences: A Student's Guide to the Information and Communication Technologies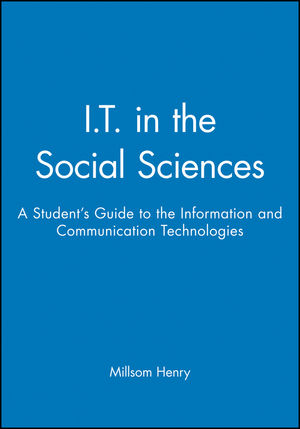 I.T. in the Social Sciences: A Student's Guide to the Information and Communication Technologies
ISBN: 978-1-855-54823-7 January 1999 Wiley-Blackwell 256 Pages
Description
IT in the Social Sciences provides students with an overview of the use and study of technology in the social sciences.
Table of contents
List of Contributors.
Preface.
Acknowledgements.
1. Studying and using technology: An Introduction to Communications and Information Technologies (Millsom Henry).
2. Confronting the Social Character of Computers: The Challenges for Social Scientists (Steve Fuller).
3. What, When and How to learn Using Technology Effectively: Transferable Skills for the Social Sciences Student (Kate Bloor).
4. The Computer as a Tool to Aid the Interaction Between Thinking and Essay Writing (Jon Gubbay).
5. Data Sources for Social Scientists (Eric Tanenbaum).
6. Quantitative Research and Information Technology (Duncan Timms).
7. The Theoretical and Practical Applications of IT in Qualitative Analysis (Nigel Fielding).
8. Using Computers in Qualitative Analysis (Mike Fisher).
9. The Use of Computerized Simulations in Social Science Research, Training and Teaching (George H. Conklin).
10. Simulating Social Interaction in a Virtual Reality Setting: Problems and Prospects (Edward Brent).
11. Alone@Campus.Edu? The Interaction of Student and computing Cultures at the University of California at Berkley (Nina Wakeford).
12. Future Directions: IT ad Studying Social and Political Science in the Next Decade (Graham R. Gibbs and Catherine Skinner).
Index.
What's New
* Provides students with a user-friendly introduction to the range of communications and information technologies and their use in the social sciences.
* Offers both practical advice and an introduction to the main arguments about the impact of technology on society.
* The contributions provide evidence that technology is an important subject of enquiry for social science students and that social scientists have an important role to play in shaping future policy on this issue.