IAAP Handbook of Applied Psychology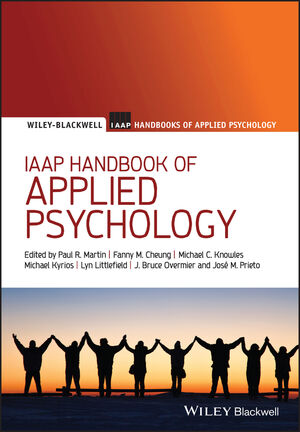 IAAP Handbook of Applied Psychology
ISBN: 978-1-405-19331-3
May 2011, Wiley-Blackwell
832 pages
Description
The IAAP Handbook of Applied Psychology, an up-to-date and authoritative reference, provides a critical overview of applied psychology from an international perspective.
 Brings together articles by leading authorities from around the world
 Provides the reader with a complete overview of the field and highlights key research findings
 Divided into three parts: professional psychology, substantive areas of applied psychology, and special topics in applied psychology
 Explores the challenges, opportunities, and potential future developments in applied psychology
 Features comprehensive coverage of the field, including topics as diverse as clinical health psychology, environmental psychology, and consumer psychology
About the Editors.
About the Contributors.
Preface.
Part I: Professional Psychology.
1. Clinical Child Psychology: Research and Practice Applications (Michael C. Roberts, Bridget K. Biggs, Yo Jackson and Ric G. Steele).
2. Clinical Psychology: Adult (Terry Wilson).
3. Clinical Health Psychology (John Weinman, Ronan O'Carroll and Keith J. Petrie).
4. Health Promotion (Charles Abraham, Gerjo Kok, Herman Schaalma and Aleksandra Luszczynska).
5. Clinical Neuropsychology (Ronald Ruff and Christina Weyer Jamora).
6. Counselling Psychology (Fred Leong, Mark Savickas and Mark Leach).
7. Autonomy in Learning and Instruction (Roots, Frames and Concepts of a Basic Issue (Peter Nenniger).
8. Vocational Psychology (David Blustein, Kerri Murphy, Maria Coutinho, Christine Catraio and Faedra Backus).
9. Work Psychology (Robert Roe).
10. Organisational Psychology (Robert Wood, Victoria Roberts and Jennifer Whelan).
11. Personnel/Human Resource Psychology (Cynthia Fisher).
12. Occupational Health Psychology (Jose Maria Peiro and Lois Tetrick).
13. Human Factors and Ergonomics (Jose J. Canas, Boris B. Velichkovsky and Boris M. Velichkovsky).
14. Technical Advances and Guidelines for Improving Testing Practices (Ronald Hambleton, David Bartram and Tom Oakland).
15. A Century of Psychology and Law: Successes, Challenges and Future Opportunities - James Ogloff).
16. Applied Sport Psychology: Beware the Sun, Icarus (Peter C. Terry).
Part II: Substantive Areas of Applied Psychology.
17. Applied Geropsychology (Rocio Fernandez-Ballesteros and Martin Pinquart).
18. Environmental Psychology (includes climate change) (Robert Gifford, Linda Steg and Joseph Reser).
19. Community Psychology (Carolyn Kagan, Karen Duggan, Michael Richards and Asiya Siddiquee).
20. Behavioural Economics Applied: Suggestions for Policy Making (Gerrit Antonides).
21. Cross-cultural Psychology in Applied Settings: Passages to Differences (Kaiping Peng and Susannah Paletz).
Part III: Special Topics in Applied Psychology.
22. Traffic Psychology: A State-Of-The-Art Review (Ian Glendon).
23. Applied Cognitive Psychology (Alice Healy and L. Bourne Jr).
24. Rehabilitation Psychology (William Stiers, Kathryn Nicholson Perry Paul Kennedy and Marcia J. Scherer).
25. Psychology and Societal Development (Girishwar Misra and Janak Pandey).
26. The Psychology of Religion and Religious Experience (David Fontana).
27. Media and Consumer Psychology (Frank Kardes, Perilou Goddard, Xiaoqi Han and Bruce Pfeiffer).
28. Psychology Applied to Poverty (Stuart C. Carr and Chiwoza Bandawe).
29. Psychology Applied to Terrorism: Psychological Treatment for Victims of Terrorist Attacks (Maria Paz Garcia-Vera and Jesus Sanz).
30. Psychology and Forced Migrants (Zachary Steel and Catherine Robina Bateman Steel).
31. The Evolution of Ethics in Psychology: Going International and Global (Janel Gauthier and Jean Pettifor).
Part IV: Conclusions.
32. Applied Psychology in the International Context: What More Needs to be Done? (Paul R. Martin).
33. Applied Psychology: Epilogue (Michael C. Knowles).
Name Index.
Subject Index.
 "The fourth audience that may find this volume very helpful is composed of those psychologists who are steeped in the literature and practices of their field in their own countries but have limited international experience. Most practicing psychologists who read this book are likely to learn something new about another field. Finally, researchers who are distanced from their practitioner colleagues may find the research agendas enlightening."  (PsycCRITIQUES, 11 April 2012)