IBS Cookbook For Dummies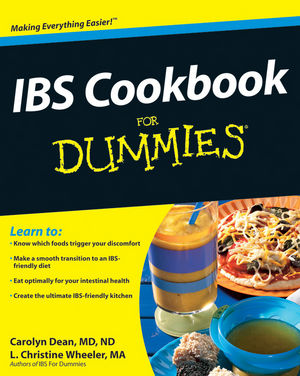 IBS Cookbook For Dummies
ISBN: 978-0-470-53072-6 December 2009 360 Pages
Description
A unique guide to decreasing symptoms of IBS through delicious food
Do you suffer from irritable bowel syndrome (IBS)? You're not alone; it is estimated that about 35 million Americans experience the symptoms of IBS. IBS Cookbook For Dummies provides those affected by IBS with easy-to-follow, easy-to-understand recipes to create meals using foods and methods that decrease the risk of experiencing the discomfort of symptoms associated with the disorder.
Inside you'll find the dietary tips and information you need to decrease your symptoms and discomfort simply by watching what you eat. You'll find more than 100 tasty recipes you can easily make at home. And since individuals with IBS often suffer from various complications-including bowel obstructions, sores and ulcers within the intestinal tract, and malnutrition or the presence of nutritional deficiencies-IBS Cookbook For Dummies provides a nutritional meal plan that will help alleviate these complications.
Presents more than 70 delicious, easy-to-make recipes designed to ease the symptoms of IBS
Helps you avoid "trigger" foods and choose healthier alternatives
Includes tips for menu planning, including healthy meals and snacks
Explains what to eat when traveling and dining out
No need to suffer when you have IBS; just get this handy guide to start eating-and feeling-better!
Table of contents
Introduction.
Part I: You Are What You Eat: Food and IBS.
Chapter 1: IBS, Food, and You.
Chapter 2: Finding Your Intestinal Triggers.
Chapter 3: Transitioning to an IBS-Friendly Diet.
Chapter 4: Stocking Your Kitchen to Support Your Diet.
Chapter 5: When Symptoms Strike: Soothing Your Gut on Difficult Days.
Part II: Eating For Your Intestinal Health.
Chapter 6: Beginning Your Day with Breakfast (Without the Consequences).
Chapter 7: Satisfying the Munchies and Your Stomach: Snacks and Appetizers.
Chapter 8: Drinks for Any Time of Day or Night.
Chapter 9: Settling Your Stomach with Stellar Soups.
Chapter 10: Serving Up Stomach-Safe Salads.
Chapter 11: Marvelous Main Dishes that Won't Torment Your Gut.
Chapter 12: Siding with Side Dishes.
Chapter 13: Diving Into Worry-Free Desserts.
Part III: Simple Solutions for Specific Situations.
Chapter 14: Eating On the Go.
Chapter 15: Making Mealtime Easier for Kids with IBS.
Chapter 16: Finding Safe Dishes When You're Dining Out.
Part IV: The Part of Tens.
Chapter 17: Ten Tips for Making Foods Friendlier to Your Tummy.
Chapter 18: Ten Ways to Keep Yeast in Check.
Chapter 19: Ten Tempting Trigger Foods You May Want to Avoid.
Chapter 20: Ten Strategies for Avoiding Common Eating Traps.
Part V: Appendixes.
Appendix A: Metric Conversion Guide.
Appendix B: Sensible Trigger Food Substitutes.
Appendix C: Soluble and Insoluble Fiber Charts.
Appendix D: Surprising Sources of Major Triggers.
Index.