IBS For Dummies, UK Edition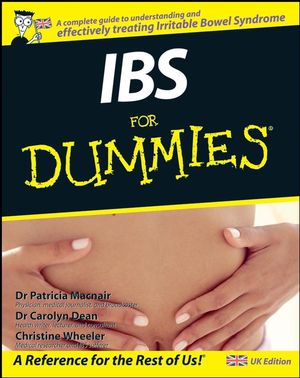 IBS For Dummies, UK Edition
ISBN: 978-0-470-51737-6 February 2012 400 Pages
Description
"The book manages to be comprehensive, easy-to-follow, hugely informative – and quite funny too (refreshing for a health title…)"
Mail on Sunday, You Magazine

Understand Irritable Bowel Syndrome, and take control

This reassuring guide to all aspects of IBS explains how to recognise and manage a wide range of symptoms, and understand the physical and emotional triggers of this frustrating condition. Inside you'll find expert guidance on the latest conventional and alternative treatment methods alongside information on nutrition, diet, and exercise, helping you to tailor your treatment to suit your needs, take your mind off your IBS, and live life to the full.

Discover how to:
Understand the triggers and symptoms of IBS

Get an accurate diagnosis and the right medical help

Incorporate diet and exercise into your treatment plan

Benefit from relaxation and stress-management techniques

Live and work with IBS
Introduction.
Part I: Just the Facts about IBS.
Chapter 1: What Is IBS? Classifying the Condition.
Chapter 2: Your Gut: Working Well.
Chapter 3: Your Sensitive Gut: Working Not So Well.
Chapter 4: Considering Causes and Targeting Triggers.
Chapter 5: Who Gets IBS and Why.
Part II: Getting Medical Help.
Chapter 6: Working With Your Doctor.
Chapter 7: Looking into the Problem.
Chapter 8: Treating IBS Symptoms with Drugs.
Part III: Healing and Dealing with IBS.
Chapter 9: Controlling Your IBS.
Chapter 10: Eating an IBS-Friendly Diet.
Chapter 11: Alleviating IBS with Exercise.
Chapter 12: Managing Emotions and Stress.
Chapter 13: Evaluating Complementary Therapies.
Part IV: Living and Working with IBS.
Chapter 14: Taking Responsibility: Reclaiming Your Life.
Chapter 15: Working with IBS.
Chapter 16: Helping Your Child Cope with IBS.
Chapter 17: Keeping Up-to-Date with IBS.
Part V: The Part of Tens.
Chapter 18: Ten IBS Triggers to Avoid.
Chapter 19: Ten Things to Do for Your IBS.
Chapter 20: Ten Ways to Get Help for Your IBS.
Part VI: Appendixes.
Appendix A: Soluble and Insoluble Fibre Chart.
Appendix B: Glossary.
Index.