ICP Emission Spectrometry: A Practical Guide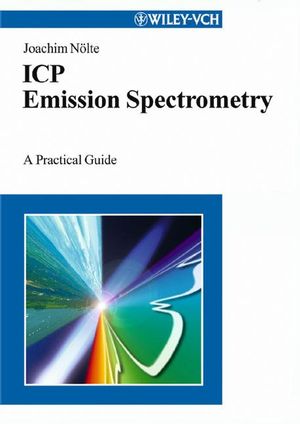 ICP Emission Spectrometry: A Practical Guide
ISBN: 978-3-527-30672-5 February 2003 281 Pages
Description
All the essentials needed for successful ICP OES analyses.
Using a clear and comprehensive style, the author introduces practitioners to ICP emission spectrometry, covering the basics as well as information on the instrumentation, instructions on how to develop methods and numerous concrete examples.
The layout is extremely reader-friendly and well structured, with the author highlighting typical questions and problems, while also providing checklists and detailed instructions for implementation.
Thus, this book is not intended merely for the readers' own training and further education, but its sections on maintenance and troubleshooting also make it a reliable source for lab chemists.
Throughout, the author draws on his knowledge and experience gained over the last 20 years in developing spectrometers for a leading manufacturer and in training and advising users as a freelance consultant. Knowledge now available to all users of ICP OES.

Table of contents
OVERVIEW
Analytic features of the ICP OES
ICP OES - definitions
Distribution of the ICP emission spectrometers
Complimentary techniques for elemental analysis
Symbols, abbreviations and acronyms used
PLASMA
The analytically used plasma
Excitation to emit electromagnetic radiation
High-frequency generator
Sample introduction system
OPTICS AND DETECTOR OF THE SPECTROMETER
Principles of optics
Detector
Emission spectrometer mounts
METHOD DEVELOPMENT
Wavelength selection
Processing and correction techniques
Non-spectral interferences
Optimization
Validation
ROUTINE ANALYSIS
Preliminary steps
Calibration
Quality control
Software and data management
TROUBLE SHOOTING
APPLICATIONS
General Notes
Notes on specific elements
Selected applications
INSTRUMENT PURCHASING AND LABORATORY PREPARATION
Which technique in atomic spectrometry is preferred?
Which ICP emission spectrometer is best for the application?
Preparation of the laboratory
LITERATURE
INDEX

Reviews
"...crammed with useful tips and pointers...this book should find its way to the laboratory bookshelf and be in constant use by practitioners." Clinical Chemistry

"...a wonderful collection of useful practical advice for the operation of ICP emission spectrometers...this reviewer highly recommends this book as a giude that should be sitting beside every ICP instrument..."
Journal of the American Chemical Society, Vol. 125