IFRS Made Easy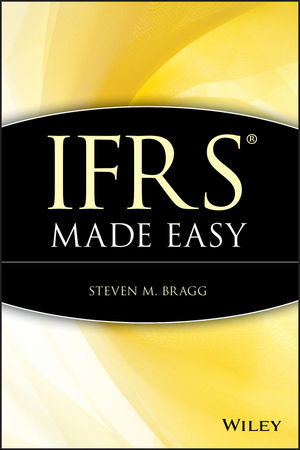 IFRS Made Easy
ISBN: 978-1-118-00364-0
Nov 2010
256 pages
Description
The definitive guide to all things IFRS
IFRS Made Easy provides complete, easy-to-navigate coverage of all International Financial Reporting Standards (IFRSs) with concise explanations and hundreds of supporting examples. This reference tool goes anywhere you go-to a client's office, on a business trip, or to an important lunch meeting, with on-the-spot answers to any questions that arise.
Practical, plain -language explanation of the international financial accounting and reporting standards
Summarizes International Financial Reporting Standards
Liberally sprinkled with definitions and examples
Notes applicable IFRS source documents
Written for every company struggling with the impact of convergence, IFRS Made Easy clearly explains how IFRS will impact your company, how you will need to account for various specific items, and more. This book is filled with practical techniques and rules of thumb for understanding the day-to-day IFRS issues every accountant, controller or CFO is sure to face-and puts all the answers you need at your fingertips.
Preface.
About the Author.
PART I REVENUE AND EXPENSES.
Chapter 1 Revenue Recognition.
Chapter 2 Employee Benefits.
Chapter 3 Share-Based Payments.
Chapter 4 Income Taxes.
PART II ASSETS AND LIABILITIES.
Chapter 5 Financial Instruments.
Chapter 6 Interests in Joint Ventures.
Chapter 7 Investments in Associates.
Chapter 8 Inventory.
Chapter 9 Property, Plant, and Equipment.
Chapter 10 Intangible Assets.
Chapter 11 Asset Impairment.
Chapter 12 Provisions and Contingencies.
PART III THE FINANCIAL STATEMENTS.
Chapter 13 Financial Statements Presentation.
Chapter 14 Consolidated and Separate Financial Statements.
Chapter 15 Related Party Disclosures.
Chapter 16 Events after the Reporting Period.
Chapter 17 Financial Reporting in Hyperinflationary Economies.
PART IV PUBLIC COMPANY REPORTING.
Chapter 18 Operating Segments.
Chapter 19 Earnings per Share.
Chapter 20 Interim Financial Reporting.
PART V BROAD TRANSACTIONS.
Chapter 21 Business Combinations.
Chapter 22 Changes in Accounting Policies, Estimates, and Errors.
Chapter 23 Discontinued Operations and Non-Current Assets Held for Sale.
Chapter 24 Effects of Foreign Exchange Rate Changes.
Chapter 25 Leases.
Index.