IFRS Policies and Procedures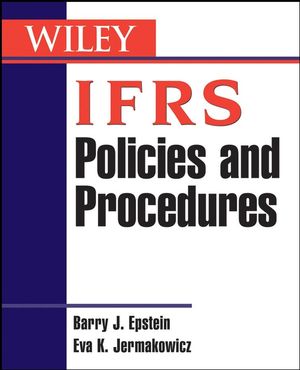 IFRS Policies and Procedures
ISBN: 978-0-471-69958-3 April 2008 480 Pages
Description
Get the answers you need to effectively implement IFRS rules and keep up to date on the latest IFRS requirements. Designed to complement any Wiley IFRS product, IFRS Policies and Procedures is sequenced in the same manner as Wiley IFRS and incorporates additional categories of information to assist you in properly implementing IFRS, covering all current IAS, IFRS, SIC and IFRIC guidance in depth.
1. Researching IFRS Implementation Problems.
2. Cash, Receivables, and Prepaid Expenses.
3. Short-Term Investments and Financial Instruments.
4. Inventory.
5. Revenue Recognition.
6. Long-Lived Assets.
7. Investments.
8. Business Combinations and Consolidated Financial Statements.
9. Current Liabilities, Provisions, Contingencies, and Events After the Balance Sheet Date.
10. Long-Term Debt.
11. Leases.
12. Pensions and Other Postretirement Benefits.
13. Shareholders' Equity.
14. Interim Reporting.
15. Segment Reporting.
16. Foreign Currency.
Index.