IPM Handbook for Golf Courses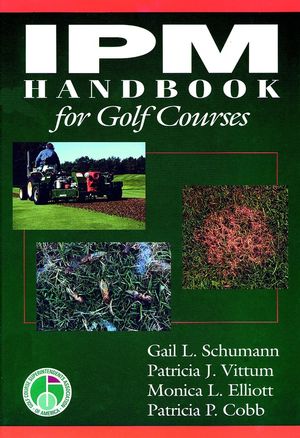 IPM Handbook for Golf Courses
ISBN: 978-1-575-04065-3
Jan 1998
272 pages
Description
Designed for both novice and experienced superintendents, this field-manual will help you understand and implement successful integrated pest management techniques. Each chapter begins with a solid introduction, followed by step-by-step lists to aid in the field application of IPM principles to real world situations. Over 150 photographs--32 in color--along with informative tables and drawings illustrate the key points. Actual examples and success stories are presented by superintendents from across the country to help you plan or improve your IPM program.

IPM Handbook for Golf Courses by Gail L. Schumann, Patricia J. Vittum, Monica L. Elliott, and Patricia P. Cobb is a volume in the series:
Turfgrass Science and Practice James B. Beard, Editor
Chapter 1. Introduction.

Chapter 2. Site Assessment.

Chapter 3. Scouting and Monitoring.

Chapter 4. Cultural Control Strategies: Stress Management.

Chapter 5. Biological Control Strategies.

Chapter 6. Chemical Control Strategies.

Chapter 7. Pest Management: Insects.

Chapter 8. Pest Management: Diseases.

Chapter 9. Pest Management: Nematodes.

Chapter 10. Pest Management: Weeds.

Chapter 11. Developing Technologies for Pest Management.

Chapter 12. Getting Started.

Chapter 13. Regional IPM Portraits.

Appendix 1. Sources of Major IPM References and Trade Magazines.

Appendix 2. Scientific Names of Common Turfgrasses, Insect Pests, Fungal Pathogens, and Weeds.

Glossary.

Index.