IPOs for Everyone: The 12 Secrets of Investing in IPOs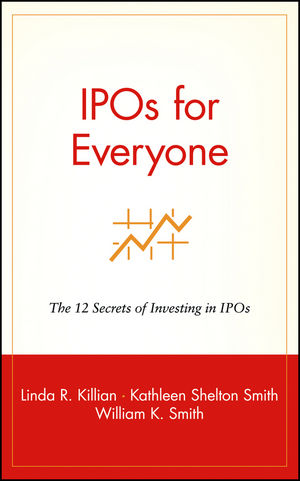 IPOs for Everyone: The 12 Secrets of Investing in IPOs
ISBN: 978-0-471-43807-6
Mar 2004
320 pages
Description
Founders of Renaissance Capital and the IPO Aftermarket Fund get in on the cutting edge of today's economy

The business press has declared IPOs-Initial Public Offerings-dead seven times in the past ten years. Every time they've been wrong. Far from being deterred by the IPO obituaries, the authors of IPOs for Everyone show that these times in the IPO market consistently present the best buys. Once reserved for a select group of Wall Street pros, there are now many opportunities for individual investors to take advantage of in the IPO groundswell. IPOs have become a must have for investors who wish to diversify their portfolio. IPOs for Everyone, reveals the twelve secrets used by the founders of Renaissance Capital, the leading IPO research and money management firm, to pick a winning IPO investment. This timely book provides the inside knowledge that investors must have to play the volatile IPO market successfully, including: finding the best companies on the block, getting favorable pricing and seeking out buying opportunities in the aftermarket.
Exhibits.

Introduction.

How the IPO Market Works.

The Way Wall Street Works: Why You Can't Get IPOs and What You Can Do about It.

How to Have IPO Intelligence.

Mining the IPO Prospectus.

What Makes a Good IPO.

How to Avoid Bad IPOs.

Internet and Technology IPO Basics.

The Potential of Global IPOs.

How Management Helps or Hurts an IPO.

How to Trade IPOs.

The Sustainability of IPOs.

Finding the Right Resources.

Appendix A: Directory of Underwriters.

Appendix B: Top 25 IPO Underwriters.

Appendix C: A Short History of IPOs.

Glossary of IPO Terms.

Index.
TODAY'S IPOs ARE PRICED TO MOVE
The truth is that if you're not a big-money player who can flip a new issue fast, IPOs
are rarely good bets. But that may be changing.

Maybe the only job tougher right now than being Bill Clinton's spokeswoman is selling new stock on Wall Street. In the first two months of 2000, there were 70 initial public offerings. So far this year? Nine, a low not scraped since 1979. Five of these new stocks are already under water-cold certification that so far, 2001 is an IPO bear market.
What should you make of this? If you've ever wanted to buy a new issue, now's the time to get serious. For prospective IPO buyers, "this really is the best time, because there is no competition for these deals," says Linda Killian, a partner at IPO investing boutique Renaissance Capital and co-author of the new book IPOS for Everyone, "They get priced to move.". . .
--by Robert Barker, BusinessWeek