IPTV Security: Protecting High-Value Digital Contents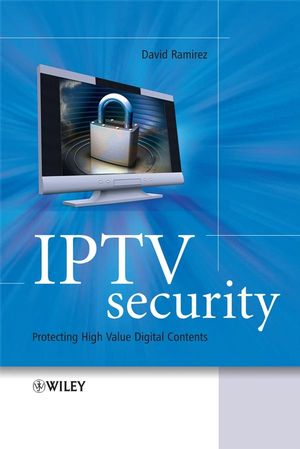 IPTV Security: Protecting High-Value Digital Contents
ISBN: 978-0-470-72719-5 February 2008 252 Pages
Description
Television was one of the inventions that shaped the way society and culture evolved over the second half of the twentieth century. It had the powerful effect of shrinking the world which creating a unified view of how things were. There continues to be an evolution of television and a migration towards a fully interactive and ubiquitous IPTV.

IPTV Security describes the science and history behind TV as well as detailed descriptions of all the architectural components that comprise an IPTV environment. It covers subjects logically from the Head End passing through the aggregation network and concluding with the Home End environment. The countermeasures required to ensure the safe operation of the IPTV environment are also examined, including Digital Rights Management technologies, network level security and application level security. IPTV Security defines the security model for an IPTV environment, ensuring that all critical elements are covered and a layered approach to security is implemented.
One of the only books available on IPTV Security
Provides a comprehensive view of IPTV components along with the associated threats and required countermeasures
Detailed descriptions allow readers to understand the technology even if new to the field
A complete reference guide to the security aspects of IPTV.
This book is ideal for anyone responsible for IPTV security such as security officers and auditors working with internet services and telecommunications providers, phone and cable companies, content owners and security consultants and architects. It will also be of interest to networking and security engineers, software developers, network operators and university lectures and students involved in media, IT and security.
Preface.
About the Author.
1. Introduction to IPTV
1.1 Introduction.
1.2 General Threats to IPTV Deployments.

2. Principles Supporting IPTV.

2.1 History of video and television.

2.2 Viewing Experience of Video.
2.3 Video compression.

2.4 TCP/IP Principles.

2.5 Summary.
3. IPTV Architecture.
3.1 High-level Architecture.

3.2 Functional architecture for the IPTV service.

3.3 Detailed IPTV architecture.

3.4 Summary.

4.Intellectual Property (IP).

4.1  Introduction.

4.2 Supporting technology.

4.3 General mechanisms for content protection.

4.4 Operation of DRM on IPTV.

4.5 Watermarking and Fingerprinting.

4.6 WWW? (What went wrong).

4.7 Authentication.

4.8 Summary.

5.Existing Threats to IPTV implementations.

5.1 Introduction to IPTV Threats.

5.2 IPTV Service provider - Head End.

5.3 IPTV Network provider - transport and aggregation network.

5.4 IPTV Subscriber - Home End.

5.5 Conclusion.

6. Countering the Threats.

6.1 Securing the basis.

6.2 Head End (IPTV Service Provider).

6.3Aggregation and Transport Network.

6.4 Home End.

6.5 Secure IPTV a reality.
Appendix 1. Converged Video Security.
A1.1 Introduction.
A1.2 Threats to IPTV Deployments.
A1.3 Protecting Intellectual Property.
A1.4 VOD and Broadcast.
A1.5 Smart Cards and DRM.
A1.6 Countering the Threats.
A1.6.1 Threat References.
A1.6.2 Threat Models.
Appendix 2. Federated Identity in IPTV Environments.
A2.1 Introduction.
A2.2 IPTV Federated Identity Solutions.
A2.3 Applicability to an IPTV Security Environment.
A2.4 Video on Demand.
Appendix 3. Barbarians at the Gate.
A3.1 Barbarians at the Gate.
A3.2 How to Break an IPTV Environment.
A3.3 Network Under Siege.
A3.4 Countermeasures.
A3.5 Conclusion.
Index.