IVF and Beyond For Dummies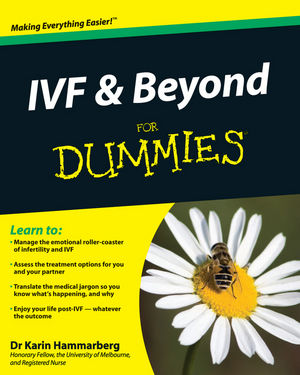 IVF and Beyond For Dummies
ISBN: 978-1-742-46992-8 July 2010 312 Pages
Description
Created especially for the Australian customer!
A guide to the medical, emotional, legal and financial aspects of IVF and life after treatment
Are you trying for a baby but suspect you may have an infertility problem and need IVF to conceive? IVF & Beyond For Dummies gives you clear advice on the causes of infertility, getting ready for IVF, the steps involved in treatment and managing the ups and downs of this difficult time. This comprehensive guide also prepares you for life post-IVF.
Find out why you can't fall pregnant -- learn about the causes of infertility and what it takes to get a diagnosis
Improve your chances of IVF success -- change your lifestyle to boost your fertility
Understand IVF step-by-step -- get detailed, easy-to-follow explanations of what happens in a treatment cycle
Navigate the system -- educate yourself about the legal and financial realities of IVF
Take charge -- be empowered to make informed decisions about your IVF treatment
Manage treatment stress -- discover strategies for surviving the emotional turmoil of IVF
Help a friend -- get advice on how to support a loved one who's undergoing IVF
Enjoy life after IVF -- find out what's special about being pregnant, giving birth and parenting after IVF
Introduction.
Part I: Getting Ready for IVF.
Chapter 1: Taking First Things First.
Chapter 2: Why Us? Going Through the Emotions of Being Infertile.
Chapter 3: Setting the Perfect Scene.
Part II: All You Need to Know About IVF.
Chapter 4: The Law and the Team.
Chapter 5: Taking IVF One Step at a Time.
Chapter 6: Taking Drugs, Drugs and More Drugs.
Chapter 7: Taking a Peek Inside the Lab.
Chapter 8: Assessing the Odds of Your Dream Coming True.
Chapter 9: Riding the Emotional Roller-Coaster of the IVF Cycle.
Part III: Understanding the Risks of IVF.
Chapter 10: Understanding the Risks of IVF to Your Physical Health.
Chapter 11: Realising How IVF Can Affect Your Mental Health.
Chapter 12: Moving On When IVF Doesn't Work.
Part IV: Pushing the Boundaries.
Chapter 13: Using a Donor.
Chapter 14: Using a Surrogate.
Chapter 15: Putting Things on Ice.
Chapter 16: Avoiding Passing on 'Bad' Genes.
Chapter 17: Looking at Future Possibilities.
Part V: Beyond IVF.
Chapter 18: Jumping For Joy: Baby On the Way!
Chapter 19: Welcoming Your Baby to the World.
Chapter 20: Coming Home With Your New Baby.
Chapter 21: Living and Loving Life with Your New Family Member.
Part VI: The Part of Tens.
Chapter 22: Ten Tips for Surviving IVF.
Chapter 23: Ten Tips for New IVF Parents.
Part VII: Appendixes.
Appendix A: Abbreviations.
Appendix B: What Does This Mean? (A Glossary of Terms).
Appendix C: Web Resources.
Index.