Ichthyology, 2nd Edition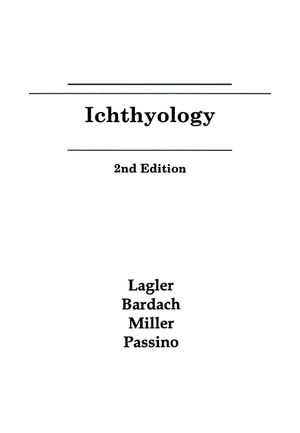 Ichthyology, 2nd Edition
ISBN: 978-0-471-51166-3
Apr 1977
528 pages
Description
The definitive guide to the study of fish
In this second edition of Ichthyology, readers will find a comprehensive resource. Starting with the basic definition of what fish are, where they live, and how they live, this in-depth text provides an ordered approach covering this branch of science in its entirety. Readers will discover the major groups of fishes, learn about basic fish anatomy, be introduced to issues of nutrition and growth, gain an understanding of fish locomotion, and much more. For those interested in the advancing in the field, the book also discusses opportunities for careers.
Fish, Animals, and Man.

The Major Groups of Fishes.

Basic Fish Anatomy.

Skin.

Foods, Digestion, Nutrition, and Growth.

Skeleton, Build, and Movement.

Blood and Circulation.

Respiration.

Excretion and Osmotic Regulation.

Reproduction.

Integration.

Genetics and Evolution.

Systematics and Nomenclature.

Ecology and Zoogeography.