Ideas About Art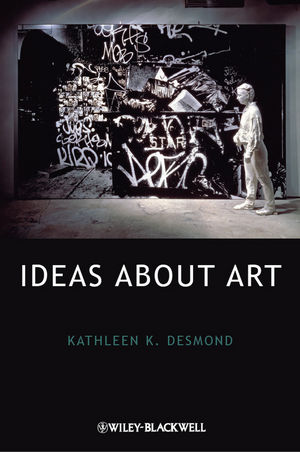 Ideas About Art
ISBN: 978-1-405-17883-9 May 2011 Wiley-Blackwell 278 Pages
Description
Ideas About Art is an intelligent, accessible introductory text for students interested in learning how to think about aesthetics. It uses stories drawn from the experiences of individuals involved in the arts as a means of exposing readers to the philosophies, theories, and arguments that shape and drive visual art. 
An accessible, story-driven introduction to aesthetic theory and philosophy
Prompts readers to develop independent ideas about aesthetics; this is a guide on how to think, not what to think
Includes discussions of non-western, contemporary, and discipline-specific theories
Examines a range of art-based dilemmas across a wide variety of disciplines - from art and design and law to visual and museum studies
List of Illustrations.
Preface.
Acknowledgements.
1 Public Opinion/Public Art.
I Don't Know Anything About Art, But I Know What I Like!
2 Non-Western Ideas About What Art Is.
Is Art Situational? Cultural? Biological? Universal?
3 Western Ideas About What Art Is.
4 Beauty.
Does Art Have to be Beautiful?
5 Expression and Aesthetic Experience.
6 Art and Ethics.
Morals and Religion.
7 Political Art, Censorship, and Pornography.
When Art Is Too Powerful, Cover It Up.
8 Art and Economics.
9 Feminist Art, Aesthetics, and Art Criticism.
Where Were the Women in My Art History Books?
10 Postmodernist Art and Attitudes.
11 Photography and New Media.
12 (Re)Discovering Design.
13 Art and Aesthetic Education.
14 Artists, Art Critics, Art Historians, Curators, Museums, and Viewers.
Making Art Ideas Your Own.
Bibliography.
Illustration Credits.
Index.
"This book will engage the serious reader of art theory with accessible language and interesting imagery and personal."  (SchoolArts, 1 May 2014)
"This book provides many refreshingly-new ideas about art from many people and areas of the world, as well as open-ended, non-dogmatic discussions on many topics."  (Biz India, 10 December 2012)
"This text offers art-interested students and general readers a sampling of ideas on a wide range of topics, in an accessible, non-intimidating manner." (Book News, 1 August 2011)

"This book will engage the serious reader of art theory with accessible language and interesting imagery and personal stories."
(School Arts, 1 May 2014)