Ideas of Difference: Social Spaces and the Labour of Division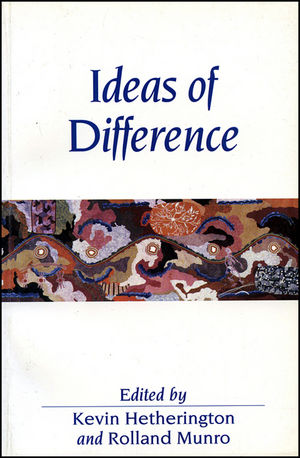 Ideas of Difference: Social Spaces and the Labour of Division
ISBN: 978-0-631-20768-9
Mar 1998, Wiley-Blackwell
312 pages
Product not available for purchase
Description
This book introduces contemporary writing about difference through the idea of the labour of division. The contributors see divisions as artefacts that are not only produced in representations of the social but are performed as a continuous labour. Ideas of Difference will appeal to anyone working on identity, organizing, materiality, ethics or spatiality. In reversing the traditional 'division of labour'. the book puts the issue of difference in question. The issue is not so much that differences are reproduced through social constructions, but of identifying the work that social construction allows in creating, consuming and switching 'divisions'. Divisions are no longer seen as fixed, or natural, but are implicated in performing difference.
Acknowledgements.
List of plates.
Introduction.
Idea of difference: stability, social spaces and the labour of division (Rolland Munro).
Section I: Labouring Division.
Introduction.
The visibility of social systems (Robert Cooper).
Gender: division or comparison? (Marilyn Strathern). 
In the wake of disaster: stress, hysteria and the event (Steven D. Brown).
Section II: Organizing Division. 
Identity in a culture of dissection: body, self and knowledge (Karen Dale).
Dividing organizations and multiplying identities (Martin Parker).
The labour of division: the manager as 'self' and 'other' (Tony J. Watson).
Section III: Spacing Division. 
Resisting pictures: representation, distribution and ontological politics (John Law and Ruth Benschop).
In place of geometry: the materiality of place (Kevin Hetherington).
Home-made space and the will to disconnect (Steve Hinchliffe).
Section IV: Deferring Division. 
The melancholy of the Black Widow (Heather Hopfl).
On words and clocks: temporal ordering in a ward for autistic youths (Ruud Hendriks).
Older people in hospital: the labour of division, affirmation and the stop (Joanna E. Latimer).
Notes on Contributors.
Index.
* The book is novel. It introduces a new way of looking at questions of difference and division.
* The book is interdisciplinary, drawing in particular on sociology, organizational studies, social anthropology and cultural geography.