Identity, Truth and Value: Essays in Honor of David Wiggins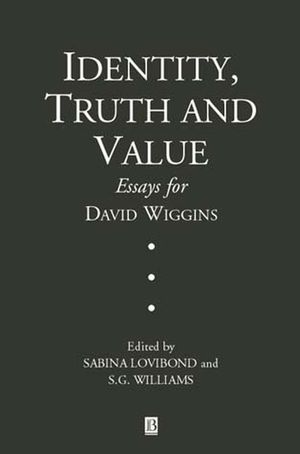 Identity, Truth and Value: Essays in Honor of David Wiggins
ISBN: 978-0-631-22068-8
Apr 2000, Wiley-Blackwell
320 pages
Description
This collection of essays was presented to David Wiggins to mark his 60th birthday and his accession to the Wykeham Chair of Logic at Oxford. The contributors, who include both long-established and younger writers, take up some of the many important philosophical debates on which Wiggins has made an impact. Their chosen topics range from ancient philosophy to contemporary questions in ethics, metaphysics and the theory of meaning. An attractive feature of the volume is that it contains Wiggins's comments on each of the papers, and so offers an accessible guide to his present thinking.
Aristotelian Society Monographs Series.
Aristotelian Society Monograph Committee: Martin Davies (Monograph Editor), Thomas Baldwin, Jennifer Hornsby, Mark Sainsbury, Anthony Savile.
1. Wittgenstein on Meaning: An Interpretation and Evaluation: Colin McGinn.
2. Modes of Occurrence: Verbs, Adverbs and Events: Barry Taylor.
3. Reasoning with Arbitrary Objects: Kit Fine.
4. Thoughts: An Essay on Content: Christopher Peacocke.
5. Metaphor: David E. Cooper.
6. Needs, Values, Truth: Essays in the Philosophy of Value (Second Edition): David Wiggins.
7. Colour: Some Philosophical Problems from Wittgenstein (Second Edition): Jonathan Westphal.
8. Aesthetic Reconstructions: The Seminal Writings of Lessing, Kant and Schiller: Anthony Savile.
9. Languages of Possibility: An Essay in Philosophical Logic: Graeme Forbes.
10. Kinds of Being: A Study of Individuation, Identity and the Logic of Sortal Terms: E. J. Lowe.
11. Logical Necessity: I. McFetridge.
12. Psychoanalysis, Mind, and Art: Perspectives on Richard Wollheim: Edited by Jim Hopkins and Anthony Savile.
13. Quantum Non-Locality and Relativity: Metaphysical Intimations of Modern Physics: Tim Maudlin.
14. The Metaphysics of Free Will: An Essay on Control: John Martin Fischer.
15. Universals and Property Instances: The Alphabet of Being: John Bacon.
16. Identity, Truth and Value: Essays for David Wiggins: Sabina Lovibond and S. G. Williams.
17. Minds, Causes, and Mechanisms: A Case Against Physicalism: Josep E. Corbí and Josep L. Prades.
18. Moral Theory and Anomaly: Tom Sorell.
Outstanding contributors including both long-established and younger writers


Specially-commissioned essays
Wide ranging discussions stemming from the work of David Wiggins and his contribution to philosophy
Contains Wiggins' replies to each of the papers thus offering a guide to his present thinking.