Identity Theft For Dummies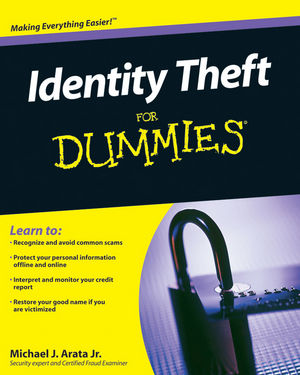 Identity Theft For Dummies
ISBN: 978-0-470-62275-9
Jan 2010
312 pages
Description
Practical solutions to help you deter, detect, and defend against identity theft
In 2008, 9.9 million Americans became victims of identity theft. The cost exceeded $48 billion in 2008; consumers spend some $5 billion out-of-pocket each year to clear up resulting fraud issues. This guide will help keep you from becoming the next victim.
Written by a veteran security professional, Identity Theft For Dummies gives you the tools to recognize what information is vulnerable, minimize your risk, stay safe online, and practice damage control if your identity is compromised.
If you have a name, a date of birth, and a Social Security number, you're a potential victim; this book helps you recognize your risk and defend against identity thieves
Explains what identity theft is, how it happens, and how to recognize if you have become a victim
Shows how to protect your personal information, how to be discreet in public places, how to interpret your credit report, and why you should monitor your financial statements
Helps you recognize risks you may not have considered, such as what you set at the curb on trash day
Provides advice on how to clear your name if you are victimized
Identity Theft For Dummies arms you to fight back against this growing threat.
Introduction.
Part I: Getting the Scoop on Identity Theft.
Chapter 1: Who's Stealing What . . . and What You Can Do about It.
Chapter 2: Mike's Anti–Identity Theft Crash Course.
Part II: Determining Whether You're a Victim.
Chapter 3: Smelling a Rat: Recognizing Common Signs of Identity Theft.
Chapter 4: Homing In on Financial Statements.
Chapter 5: Interpreting Your Credit Report.
Part III: Being Smart with Your Sensitive Information.
Chapter 6: Keeping Tabs on Your Personal and Business Information.
Chapter 7: Watching What You Set on the Curb.
Chapter 8: Practicing Discretion in Public Places.
Part IV: Arming Yourself against Potential Identity Theft.
Chapter 9: Avoiding Loss of Your Identity: Online Services That Can Help.
Chapter 10: Becoming Familiar with Identity Thieves' Scams and Methods.
Part V: Safeguarding Electronic Information.
Chapter 11: Staying Safe from Online Threats.
Chapter 12: Dispensing Security with Windows XP, Vista, and 7.
Part VI: Taking Back Your Good Name.
Chapter 13: Starting the Process of Reclaiming Your Identity.
Chapter 14: Closing Compromised Accounts.
Chapter 15: Opening New Accounts.
Part VII: The Part of Tens.
Chapter 16: Ten (Or So) Tips to Make Reclaiming Your Identity Go More Smoothly.
Chapter 17: Ten Handy Resources.
Chapter 18: Ten Security Tools You Shouldn't Be Without.
Chapter 19: Ten (Plus One) Common Scams and How to Avoid Them.
Index.