Identity and Participation in Culturally Diverse Societies: A Multidisciplinary Perspective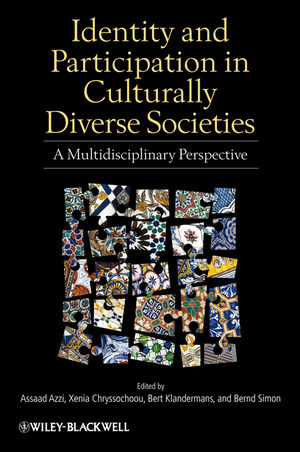 Identity and Participation in Culturally Diverse Societies: A Multidisciplinary Perspective
ISBN: 978-1-444-35181-1 July 2011 Wiley-Blackwell 400 Pages
Description
Identity and Participation in Culturally Diverse Societies presents an original discussion in an edited volume of how the links between identity, political participation, radicalization, and integration can provide a scientific understanding of the complex issue of coexistence between groups in culturally diverse societies.
Offers a scientific understanding of the complex issue of coexistence between groups in culturally diverse societies
Utilizes original theory which combines social psychology, sociology, and political science
Includes an original and extensive discussion of combining the concepts of identity and diversity
Innovatively and engagingly employs the latest research and state-of-the-art theory
About the Editors and Contributors.
Introduction (Xenia Chryssochoou, Assaad E. Azzi, Bert Klandermans, and Bernd Simon).
Part I Development, (Re)Construction, and Expression of Collective Identities (Xenia Chryssochoou).
1 The Role of Nationalism, Ethnicity, and Class in Shaping Greek American Identity, 1890–1927: A Historical Analysis (Yannis G. S. Papadopoulos).
2 Religious Identity and Socio-Political Participation: Muslim Minorities in Western Europe (Maykel Verkuyten).
3 The Bicultural Identity Performance of Immigrants (Shaun Wiley and Kay Deaux).
4 Perceptions of (In)compatibility between Identities and Participation in the National Polity of People belonging to Ethnic Minorities (Xenia Chryssochoou and Evanthia Lyons).
Part II Collective Identity and Political Participation (Bernd Simon).
5 Winners and Losers in the Europeanization of Public Policy Debates: Empowering the Already Powerful? (Ruud Koopmans and Paul Statham).
6 New Ways of Understanding Migrant Integration in Europe (P. R. Ireland).
7 Collective Identity and Political Engagement (Bernd Simon).
8 Collective Identity, Political Participation, and the Making of the Social Self (Stephen Reicher and John Drury).
Part III Radicalization (Bert Klandermans).
9 Radicalization (Jacquelien van Stekelenburg and Bert Klandermans).
10 Citizenship Regimes and Identity Strategies Among Young Muslims in Europe (Catarina Kinnvall and Paul Nesbitt-Larking).
11 Going All the Way: Politicization and Radicalization of the Hofstad Network in the Netherlands (Martijn de Koning and Roel Meijer).
12 Trajectories of Ideologies and Action in US Organized Racism (Kathleen M. Blee).
13 No Radicalization without Identification: How Ethnic Dutch and Dutch Muslim Web Forums Radicalize Over Time (Jacquelien van Stekelenburg, Dirk Oegema, and Bert Klandermans).
Part IV Integration (Assaad E. Azzi).
14 Immigrant Acculturation: Psychological and Social Adaptations (John W. Berry).
15 Ethnic Social Networks, Social Capital, and Political Participation of Immigrants (Dirk Jacobs and Jean Tillie).
16 Naturalization as Boundary Crossing: Evidence from Labor Migrants in Germany (Claudia Diehl and Michael Blohm).
17 Confronting the Past to Create a Better Future: The Antecedents and Benefits of Intergroup Forgiveness (Nyla R. Branscombe and Tracey Cronin).
Conclusion: From Identity and Participation to Integration or Radicalization: A Critical Appraisal (Assaad E. Azzi).
Name Index.
Subject Index.
"Azzi, Chryssochoou, Klandermans and Simon have produced a topical, interesting and highly commendable edited volume concerned with identity and participation in culturally diverse socities, which will serve both established researchers and newcomers to the field." (Social Psychological Review, 2011)
"This new collection uses an innovative blend of sociology, psychology and political science to outline current academic thinking about belonging and political action. Sweeping through discussions about how identity is formed, how it links to political participation, and when and why groups choose to integrate or radicalise, this book outlines the life-course of European political life." Runny Meade Bulletin, Autumn 2011