Ideology and Cultural Identity: Modernity and the Third World Presence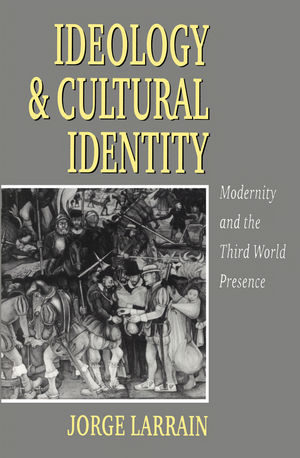 Ideology and Cultural Identity: Modernity and the Third World Presence
ISBN: 978-0-745-61316-1 July 1994 Polity 208 Pages
Description
In this book Jorge Larrain discusses three of the most important concepts in the social sciences: ideology, reason and cultural identity.
Table of contents
Introduction.
1. Ideology, Reason and the Construction of the Other.
2. Ideology and the Assault on Reason.
3. Structuralism and the Dissolution of Althusserianism.
4. Poststructuralism and Postmodernism.
5. Habermas and the New Concept of Reason.
6. Cultural Identity, Globalization and History.
Reviews
'Larrain's study is a very useful survey of recent developments in the critique of ideology.'
Choice
'Larrain's work is a pleasure to read: tentative and humane, he employs a concept of ideology derived from but not entirely concident with that of Marx to offer a critical examination of the complacency and complicity of much contemporary discussion of ideology.' Political Studies
'... He analyses what he has always analysed very well - namely, the history of the concept of ideology from Schopenhauer and Nietzsche, Pareto et al., through Marx and Engels to Althusser, post-structuralism, postmodernism and Habermas.' Radical Philosophy
Features
* This book provides an account of the concept of ideology in relation to poststructuralism and postmodernism.
* One of the few books to relate this discussion to third world issues.
* Author is internationally known in the field of development studies and for his previous work in ideology.