Ideology and Modern Culture: Critical Social Theory in the Era of Mass Communication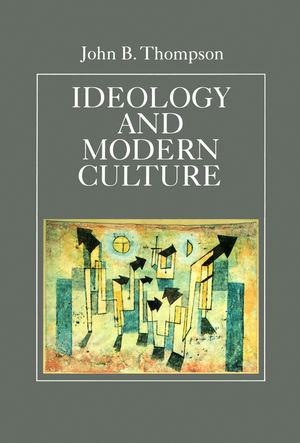 Ideology and Modern Culture: Critical Social Theory in the Era of Mass Communication
ISBN: 978-0-745-60081-9
Jan 1991, Polity
376 pages
Description
In this major new work, Thompson develops an original account of ideology and relates it to the analysis of culture and mass communication in modern Societies.

Thompson offers a concise and critical appraisal of major contributions to the theory of ideology, from Marx and Mannheim, to Horkheimer, Adorno and Habermas. He argues that these thinkers - and social and political theorists more generally - have failed to deal adequately with the nature of mass communication and its role in the modern world. In order to overcome this deficiency, Thompson undertakes a wide-ranging analysis of the development of mass communication, outlining a distinctive social theory of the mass media and their impact.
Preface.
Introduction.
1. The Concept of Ideology.
2. Ideology in Modern Societies.
3. The Concept of Culture.
4. Cultural Transmission and Mass Communication.
5. Towards a Social Theory of Mass Communication.
6. The Methodology of Interpretation.
Notes.
Index.
'Thompson's work is a tour de force full of provocative ideas, sharp analysis, and constructive social theorizing.'
American Journal of Sociology
'It is impossible in a few sentences to do justice to the enormous theoretical richness and sustained power of argument of Thompson's analysis. This is a path-breaking work which will undoubtedly become one of the fundamental texts in the theory of ideology... It is difficult to imagine that this book will not enjoy the success which it so richly deserves.' William Outhwaite, University of Sussex
'Thompson's book is set to become a definitive text on ideology and mass communication for the 1990s.' Political Studies
'There is so much to admire in Thompson's book.' The Times Literary Supplement
'An excellent example of the genre. Wide-ranging and clearly written, critical yet rarely contentious, it is primarily a textbook which moves beyond the material it expounds by situating it within the parameters of a wider enquiry ... a measured and competent performance.' The Times Higher Education Supplement
* This book is wide-ranging account of the main theories of ideology and culture in the social sciences. * The author argues that the social sciences in general, and social and political theory in particular, have neglected the role of mass communication in the modern world. * The book develops a social theory of mass communication and uses this to approach a range of topical issues - e. g. the future of broadcasting in Britain, and the role of the media in the revolutions of Eastern Europe.