If You're Not First, You're Last: Sales Strategies to Dominate Your Market and Beat Your Competition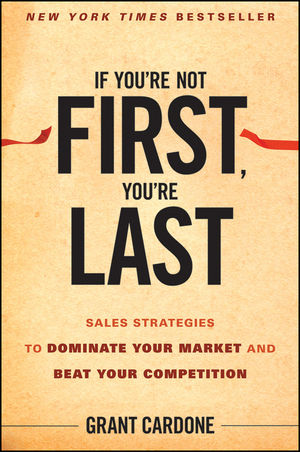 If You're Not First, You're Last: Sales Strategies to Dominate Your Market and Beat Your Competition
ISBN: 978-0-470-64592-5 May 2010 272 Pages
Description
During economic contractions, it becomes much more difficult to sell your products, maintain your customer base, and gain market share. Mistakes become more costly, and failure becomes a real possibility for all those who are not able to make the transition.

But imagine being able to sell your products when others cannot, being able to take market share from both your competitors, and knowing the precise formulas that would allow you to expand your sales while others make excuses.

If You're Not First, You're Last is about how to sell your products and services—despite the economy—and provides the reader with ways to capitalize regardless of their product, service, or idea. Grant shares his proven strategies that will allow you to not just continue to sell, but create new products, increase margins, gain market share and much more. Key concepts in If You're Not First, You're Last include:
Converting the Unsold to Sold
The Power Schedule to Maximize Sales
Your Freedom Financial Plan
The Unreasonable Selling Attitude
Introduction.
Chapter 1 Four Responses to Economic Contractions.
Chapter 2 Power Base Reactivation.
Chapter 3 Past Client Reactivation.
Chapter 4 The Most Effective Call to Advance and Conquer.
Chapter 5 Converting the Unsold.
Chapter 6 Multiply through Existing Clients.
Chapter 7 Delivering at "Wow" Levels.
Chapter 8 The Importance of Price.
Chapter 9 Activate Second Sale to Boost Profits.
Chapter 10 The Value-Added Proposition.
Chapter 11 Act Hungry.
Chapter 12 Expand Acceptable Client Profile.
Chapter 13 Effective Marketing Campaigns.
Chapter 14 Repackaging for Increased Profits.
Chapter 15 The Power Schedule to Advance and Conquer.
Chapter 16 An Advance-and-Conquer Attitude.
Chapter 17 Your Freedom Financial Plan.
Chapter 18 The Most Important Skill Needed to Advance and Conquer.
Chapter 19 The Unreasonable Attitude.
Conclusion How to Guarantee Your Position.
Afterword.
Glossary.
Index.